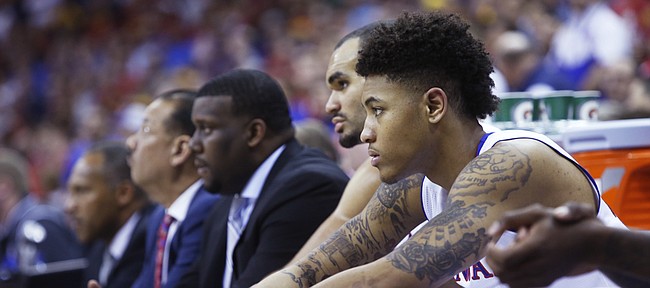 Kelly Oubre Sr. and his son, Kansas University freshman Kelly Oubre Jr., have spoken daily since the Jayhawks' season-ending loss to Wichita State on March 22 in Omaha, Nebraska.
The most serious topic on the table was, of course, whether the 6-foot-7 shooting guard should enter the 2015 NBA Draft, where he's projected to be a lottery pick, or return to KU for season No. 2.
"He didn't want to talk about it while the season was on. He said, 'Dad, I've got work to do.' Once the season was over, we talked. He said, 'Dad, I'm ready. I'm ready,''' Oubre Sr. reflected on Wednesday, following Oubre's announcement that he was indeed declaring for the draft.
"He knew he was ready. I could tell he was ready. He wasn't tired. He wasn't anxious. He was just ready because he wants to fulfill his dream," Oubre Sr. added, speaking via phone from his Houston home. "Kelly never wanted to leave this university unless it was time. It was time."
Actually, one compelling reason to stay at KU, dad said, was Kelly's desire to give more to KU's program.
"All he wanted to do was be able to represent his team, and Kansas, further into the tournament. He literally wanted to carry them through the tournament," the elder Oubre, a ninth-grade special-education teacher, said. "That's just who he is. He feels in his heart he could have done that."
Instead, KU, which won an 11th straight Big 12 title, fell in an NCAA Round of 32 game against the Shockers. Oubre finished his career with averages of 9.3 points and 5.0 rebounds for a team that went 27-9.
"It's always been a dream to play in the NBA. This is an opportunity to play against the best in the world and expand my game in hopes of someday becoming one of those great players," Oubre said in explaining his decision.
"I've been blessed to be here at the University of Kansas. I was blessed to go through the things that I went through, and I was blessed to play for coach (Bill Self). He taught me a lot this year, the little things that will help out my game a lot."
Oubre, who was second on the KU team in steals with 41, said he spoke with not only his dad and Self, but some ex-Jayhawks about his situation.
"I talked with guys who have been in this situation before me, and they told me different things. JoJo (Joel Embiid, one-and-done on Philadelphia 76ers) said he knows what I am going through, and he told me his process and some of the things he went through. It's definitely been a hard and tough decision, and I've come to this conclusion," Oubre said.
Oubre spoke with Self about the decision at length Tuesday, then wanted at least one more night to sleep on the matter, just to be sure. He was ready to announce Wednesday morning.
"This should come as really no surprise to anybody that has followed us," Self said. "Kelly came in being well thought-of by NBA personnel, and certainly nothing has changed in that regard. In the time he was here, he's been a great ambassador, a great teammate and, obviously, a very talented player.
"Kelly is an excellent student and going to fulfill his academic obligations this semester at KU. At some point in time, I am convinced that he will complete his degree, because education is important to him and his family," Self added.
Oubre insists he will pursue his degree, and getting it "will be the biggest accomplishment of my life, bigger than making it to the NBA," Oubre said. "Having that degree is something you can look back on and say, 'I worked hard to earn that.'
"The University of Kansas has always been behind me," he added. "This has been a great experience. It has felt like home since the first time I took my official visit. I wouldn't trade this situation and this time for anything in the world. I feel like I will always have a home I can come back to, and I will always have people I can lean on. I'm a Jayhawk for life, even though I'm making this next step into the NBA. I will always have Kansas across my chest, in my heart, pretty much. I want to give my all to this university. I'll be back as much as possible. I'll always call this place home."
Oubre's decision means KU now has two scholarships to award in recruiting, in addition to committed Carlton Bragg, with more likely to be made available. Cliff Alexander, who has an eligibility issue being looked at by the NCAA, remains an almost certain one-and-done player. Junior forward Perry Ellis, who is listed as a mid- to late second rounder by the draft experts (not listed by draftexpress.com), could yet decide to get a start on his pro career. Also there's always a chance of transfers.
"On the surface this presents a void on our perimeter from last year but this is something we have known could happen for several months and we are prepared for it," Self said. "I'm real excited about our players returning."
Wing possibilities in recruiting include No. 2-ranked (by Rivals.com) Jaylen Brown, 6-7, Wheeler High, Marietta, Georgia; No. 3 Malik Newman, 6-3, Callaway High, Jackson, Mississippi and No. 19 Brandon Ingram, 6-8, Kinston (North Carolina) High. KU is after several big men including UNC Charlotte transfer Mike Thorne, Jr., 6-10, Fayetteville, North Carolina as well as No. 11 Stephen Zimmerman, 7-foot, Bishop Gorman, Las Vegas; No. 7 Cheick Diallo, 6-7, Our Savior New American, Centereach, New York; and No. 5 Thon Maker, 7-foot, Orangeville Prep, Mono, Ontario.
High praise: Oubre Sr. said his son picked the right school.
"I think Kansas was a blessing. I thank coach Self and his staff. They did a great job. Coach Self runs his own show. That's why Kansas was so appealing. It's his show. We're coming to Kansas; Kansas wasn't coming to us," Oubre Sr. added with a laugh.
What will Oubre miss the most?: "The different personalities in the locker room. We all gelled from the first time we were together. I'll miss the coaches pushing us every day to be the best players we can be. Every time coach Self says something, it's definitely something you need to work on. He's seen it. He's seen it before, multiple, multiple times."