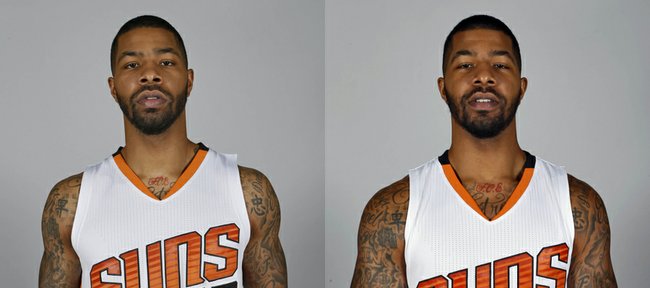 Marcus and Markieff Morris continue to live by the motto they preached at Kansas University: "Family Over Everything."
Mentioning "FOE" several times Monday at Phoenix Suns Media Day, the two former KU forwards also discussed details of their four-year NBA contract extensions worth a combined $52 million.
That's right: The twin brothers, who live in the same house, say they will throw the money in the family pot they'll share.
"It's a package deal. That's the whole concept here," Marcus Morris told nba.com. "We look at it as, I'm worth four years, 52, and Kieff is worth four years, 52. It was a one-household type deal. Numbers can say what they want to say: 52 million; that's what we are both worth."
The Arizona Republic said Marcus actually nets $20 million and Markieff $32 million over four years, but the twins insist it's all family fortune.
"Once we agreed on the amount of money, I gave them the first crack at how to divide it up. I didn't want there to be any disconnect," Suns president Lon Babby told Brightsideofthesun.com. "I didn't want to mess up that (brotherly) dynamic, so I gave them a chance, and they came up with a good solution."
The Suns do have the right to trade either twin. However, that's not in the team's plans.
"We've wanted to play on the same team since Day One, since the day we picked up a basketball," Markieff said. "We did it in college, did it in high school, and now the Suns made our dream come true."
Self supportive: KU interim football coach Clint Bowen, who was elevated to the post Sunday, has received support from two Jayhawks.
"As soon as it happened, (hoops coach) Bill Self shoots me a text, gives me encouragement. I appreciate it," Bowen said on Monday's "Hawk Talk" Radio show. "People don't know it, coach Self is a big football fan. I think secretly he wants to come coach some ball. I think we might be able to find a spot for him," Bowen added with a laugh.
Also ... "Danny Manning (Wake Forest coach) reached out and gave me a call. Chesty Lions sticking together," Bowen said of the two Lawrence High grads. "He had great advice on his text."
Go Chiefs: Some of the Jayhawks were amped for the Chiefs-Patriots game on Monday night in Kansas City.
"Heading to my first Chiefs game tonight!" tweeted sophomore Conner Frankamp.
"This place is LOUD #Arrowhead," tweeted sophomore Landen Lucas.
Former KU center Joel Embiid spoke Monday at Philadelphia 76ers Media Day, on turning pro: "I'm not going to lie, I was scared. It was a tough decision. I love Kansas and I had a good time over there. The fans showed me a lot of love. College is a once in a lifetime experience, and I'm happy that I went to Kansas. I'm disappointed I just went for one year. I was nervous when I decided to leave, but I think I made the right decision."