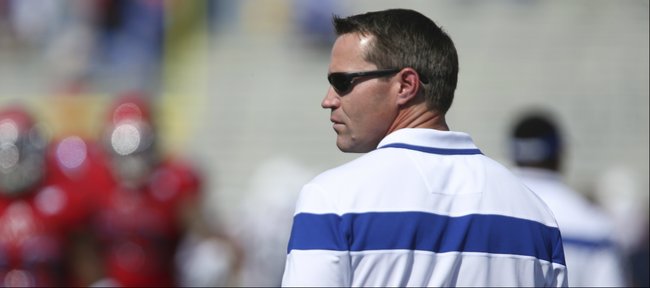 Sunday was an early morning for Kansas University athletic director Sheahon Zenger, but he had been through mornings like it before.
Three years ago, at the end of the 2011 season, Zenger fired Turner Gill after two seasons, one day after the final game of the season. Sunday, Zenger let go of Charlie Weis, the man he hired 33 months ago to clean up Gill's mess.
In two-plus seasons at Kansas, Weis won just six games in 28 tries. At times, the progress was evident. At others, it was questioned by thousands. But Zenger said the decision to move on for the rest of 2014 without Weis was about more than wins and losses.
Photo Gallery
A look back at the Charlie Weis era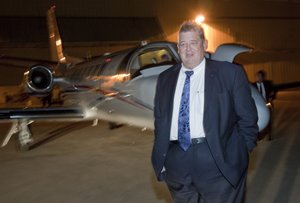 As first reported by KUsports.com's Matt Tait, Kansas University relieved Charlie Weis of his football coaching duties on September 28, 2014, four games into the third year of his short-lived time in Lawrence. Here is a look back at some moments from the Weis era, since his hiring in 2011.
Reader poll
Clint Bowen: Interim KU head coach, defensive coordinator

25%

746 votes

John Reagan: KU offensive coordinator

0%

24 votes

Ed Warinner: Ohio State co-offensive coordinator, offensive line coach

12%

362 votes

David Beaty: Texas A&M receivers coach, recruiting coordinator

8%

254 votes

Tim Beck: Nebraska offensive coordinator

1%

54 votes

Eric Kiesau: KU receivers coach

0%

10 votes

Dave Doeren: N.C. State head coach

9%

277 votes

Jim Leavitt: San Francisco 49ers linebackers coach

8%

239 votes

Chad Morris: Clemson offensive coordinator

2%

69 votes

Butch Davis: Former NFL and college coach

3%

96 votes

Mark Mangino: Iowa State offensive coordinator, tight ends coach

17%

511 votes

Other: Suggest another name in the comments

7%

228 votes
2870 total votes.
"In close review, what we found was the program had lost support at all levels," Zenger told the Journal-World early Sunday afternoon.
The final act was swift and came after Zenger spent much of the early morning hours driving around Lawrence to collect his thoughts and visualize the meeting. Zenger and Weis, with associate athletic director Sean Lester present, met early Sunday morning in Weis' office at the Anderson Family Football Complex. The meeting didn't last more than 10 minutes and, according to Zenger, all parties involved were very gracious. Sure, it might have been the end, but the destination did not completely eliminate the good that came from some of the stops along the way.
"I appreciate what coach Weis did with several facets of our football program," Zenger said in a news release announcing the move. "But we have not made the on-the-field progress we believe we should. I believe new leadership gives our coaches and players the best chance to make a fresh start."
A couple of hours after meeting with Weis, Zenger named defensive coordinator Clint Bowen the team's interim head coach for the rest of the season and introduced Bowen as such at a team meeting. Multiple sources with knowledge of that meeting told the Journal-World that Bowen was received with a hero's welcome by players on both offense and defense.
Bowen will retain his role as defensive coordinator and, because Weis' absence leaves a vacancy on the staff, director of player personnel, Louie Matsakis, has been elevated to special teams coordinator. Matsakis oversaw special teams and coached running backs for the final three seasons of the Mark Mangino era.
As for Charlie Weis Jr., who is in his third season as a student manager, Zenger said Bowen would have the final say in Weis Jr.'s role in the future.
A football guy who coached on staffs at Kansas State, Wyoming and South Florida, Zenger knows the importance of football in an athletic department. And it has been his goal since being hired to return Kansas to a competitive level that KU fans, players and the athletic department could feel good about. Although the start of the 2014 season has not gone how anyone had hoped, Zenger said a big reason for his decision to make the move now instead of waiting until the end of the season was because eight games still remain and he does not believe that all hope should be lost.
"I really believe there's talent on this team and on this staff and want to give it an opportunity to prove itself out," Zenger said.
Bowen immediately will inherit all of Weis' responsibilities, which will make for a busy Monday. In addition to a news conference with the local media at 9 a.m., he'll handle the Big 12 football coaches teleconference at 10 a.m. and also be the featured coach during Monday's 6 p.m. Hawk Talk radio show with Bob Davis.