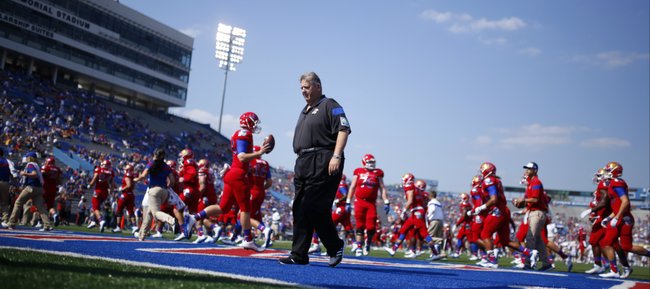 Anyone who thinks that the uncertainty surrounding former Kansas University football coach Charlie Weis' future with the program had no impact on the players themselves during the past couple of weeks, would be wise to pay attention to the recent actions of senior cornerback JaCorey Shepherd.
On Sept. 19, shortly after the Jayhawks' final walk-through one day before they took on Central Michigan at home, the normally soft-spoken Shepherd asked a KU staff member for permission to call a player's-only meeting that he hoped would tighten up the team's focus.
"It was just me basically saying we've gotta play for ourselves," Shepherd told the Journal-World on Saturday night shortly after KU's 23-0 loss to Texas and less than 24 hours before Weis was relieved of his post as the Jayhawks' head coach. "We can't worry about what's going on on the outside and we can't let that dictate our play. You can't let what's going on with the head coach situation affect you, especially when you're out there playing."
Reader poll
Clint Bowen: Interim KU head coach, defensive coordinator

25%

746 votes

John Reagan: KU offensive coordinator

0%

24 votes

Ed Warinner: Ohio State co-offensive coordinator, offensive line coach

12%

362 votes

David Beaty: Texas A&M receivers coach, recruiting coordinator

8%

254 votes

Tim Beck: Nebraska offensive coordinator

1%

54 votes

Eric Kiesau: KU receivers coach

0%

10 votes

Dave Doeren: N.C. State head coach

9%

277 votes

Jim Leavitt: San Francisco 49ers linebackers coach

8%

239 votes

Chad Morris: Clemson offensive coordinator

2%

69 votes

Butch Davis: Former NFL and college coach

3%

96 votes

Mark Mangino: Iowa State offensive coordinator, tight ends coach

17%

511 votes

Other: Suggest another name in the comments

7%

228 votes
2870 total votes.
Shepherd said he was the only one to talk at the short meeting and added that his teammates seemed to respond well to the message, which included a very clear indication by Shepherd of what his final 10 games as a Jayhawk would be about.
"Me, personally, I'm playing for y'all, my brothers," he told them. "I'm playing for my family and I'm playing for this university."
Shepherd said different groups of players within the KU locker room handled the ongoing speculation about Weis' future in different ways. Some were fully supportive of Weis. Others had mixed feelings. And still more operated in the manner that they did not have to like their head coach but they were going to respect him. Regardless of which players felt which way, Shepherd said the meeting was important to remind everyone of why they were at Kansas.
"We're playing a game and we all have dreams of playing on the next level or are playing football for an education," he said. "So why should it matter what's going on with the head coach?"
Backed by some of the most emotion they've shown so far this season, the Jayhawks defeated Central Michigan, 24-10, on the strength of a strong fourth quarter, their best since the opening quarter of the season opener. Shepherd said the outcome brought him and his teammates a lot of pride but added that it remained tough for some to focus.

"It's hard, man," he said. "It's hard."
Asked how he thought his teammates would respond to a change in leadership during the season, Shepherd sounded upbeat.
"Hopefully we'll respond in a positive way," he said. "That's really all we can do."