Photo Gallery
Kansas football v. Texas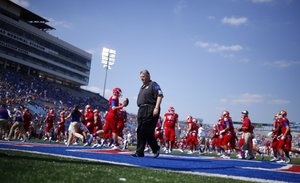 Images from Saturday's game between the Jayhawks and Longhorns at Memorial Stadium.
Podcast episode
Kansas University football coach Charlie Weis meets the media Saturday night, following the Jayhawks' 23-0 loss to Texas in the Big 12 opener for both teams.
TEXAS 23, KANSAS 0
KEEGAN RATINGS
A reporter from the state of Texas — who is used to covering games with more than 90,000 fans in the stands of University of Texas Memorial Stadium — asked coach Charlie Strong how his Longhorns were able to "create energy and enthusiasm" with the atmosphere "dead" on Saturday at Kansas University's own Memorial Stadium.
"I always say it's all about juice. I always say in the locker room, 'We've got to have juice guys,'" Strong said after the Longhorns' 23-0 victory over KU before a cozy homecoming crowd of 36,904 in a stadium that holds 50,071.
"Anytime you go on the road, the way you have to look at it is, it's just us," Strong added after UT improved to 2-2 overall and 1-0 in conference play. "I tell them if anything is going to happen, it has to happen within the inner circle with this team. We have to be together, disciplined, have to have focus. We have to have juice and have to create it."
Texas made the most of its 329 yards in scoring its 23 points. The key Saturday, however, was a defense that stole four interceptions — two by Duke Thomas and one apiece by Quandre Diggs and Jordan Hicks. Overall, KU (2-2, 0-1) gained 313 yards.
"We've got an older team, at least on defense. We know how to get ourselves excited," said Hicks, a 6-foot-1, 234-pound senior linebacker from Cincinnati. "I feel like if you can't get yourself pumped up to play one of 13, 12 guaranteed opportunities, you shouldn't be out here."
He was energized by the shutout.
"Absolutely. I mean, they are Div. I players just like we are," Hicks said. "They had the same amount of time to prepare to put that ball in the end zone just like we had to keep them out. It means a lot to this defense, this team, for us to go out and do that today."
Texas was able to contain KU quarterback Montell Cozart, who completed 12 of 31 passes for 140 yards with the four interceptions. The Longhorns had four sacks.
"It's important, man. It's big," Cedric Reed, a 6-5, 272-pound senior defensive end from Cleveland, Texas, said of the shutout. "That's a big confidence boost especially going in and playing Baylor (Saturday in Austin). We've got Baylor next, a tough opponent offensively. Any team we play ... it's a confidence boost to the defense knowing we can do it."
Strong hopes the defense can keep up the intensity versus Baylor.
"It's critical for the defense. The guys came up with big plays at the right time. Any time you defensively get a shutout, it's really great for the defense," Strong said.
Even with 50,000 fewer fans than usual in the stands. UT drew 93,201 spectators for its opening win over North Texas and 93,463 for a home loss to BYU. Seating capacity at Texas is 100,119.