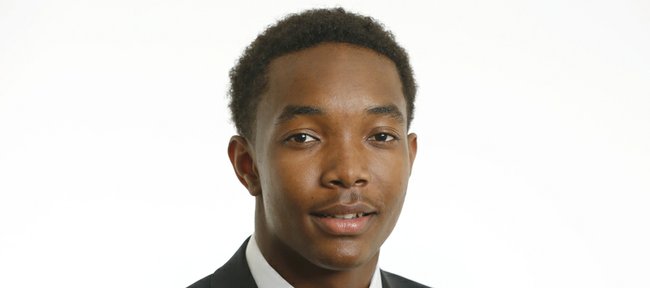 Bill Self's two-week Kansas University basketball Boot Camp proved to be as difficult as advertised, freshman point guard Devonté Graham said Friday.
"By far, overall, it was the hardest thing I've done," said the 6-foot-2, 175-pound graduate of Brewster Academy in New Hampshire.
"Conditioning-wise ... we're in pretty good shape now," Graham added, noting he and his teammates are prepared for Friday's first official practice of the 2014-15 season.
Self and his KU assistants held eight, 6-7 a.m., Boot Camp sessions. A group of Marines took care of the final two encounters Thursday and Friday in bringing "The Program" to town.
"The Program wasn't tiring, but the things they had us doing were difficult and mentally tough," point guard Graham said of carrying logs, sandbags and teammates during drills and also performing drills in Robinson Pool.
"They definitely challenged me as a point guard — me and Frank (Mason), definitely. They kind of picked on us a little bit. We don't talk as loud or be as vocal as we should be as point guard. They brought it out of us."
Graham on Friday was deemed the unofficial Program MVP.
A Marine presented him a T-shirt with The Program logo on it — a Spartan shield with the Greek letter lambda inside. Lambda was used as a shield pattern by the Spartan Army.
"Anybody could have gotten it. We all did it," Graham said. "It was who he (Marine) felt stood out as being a leader, being vocal."
To read about some of The Program drills, read the Journal-World story at http://ljw.bz/1qMgYvs
T-Rob ready: Former KU forward Thomas Robinson of the Portland Trail Blazers is ready for today's start of training camp. Robinson suffered a torn ligament in his right thumb on July 15 in the Las Vegas Summer League.
"Training camp is not even a question. I'm fine. This (protective shield) will probably be off within the next week, so I'll be fine before training camp," Robinson told nba.com on Sept. 12. "I'm doing everything. I can do anything now. I've been back for like two weeks now doing everything here, so it's cool now. Just ready to play, that's all."
Embiid recovering: Former KU center Joel Embiid still has his surgically repaired foot in a boot as the Philadelphia 76ers gear for opening of training camp today. Embiid, who needed summertime surgery to repair a fracture, was selected No. 3 in the 2014 NBA Draft.
"Everything is progressing fantastically," Philly coach Brett Brown told csnphilly.com. "The bone is healing. Like with Nerlens (Noel, top 2013 draft pick who sat out last season), we are identifying chefs to help him eat. Identifying dietary concerns and making sure whatever is going into him is educated. He is fine. But I have to help him with diet, weight lifting, and hydration."
Brown said, "of course I do," asked if he wanted Embiid to play this season. "I think it is too early to guess. Keep in mind last year I had to go to media training when I said Nerlens wasn't going to play."
Embiid made news on TMZ.com last week for his Twitter posting surrounding a celebrity hacking scandal involving naked pictures of celebs on the web.
"Why is everyone always acting crazy when pics are leaked???" Embiid tweeted ... "I mean we've all seen a woman's body."
TMZ took Embiid to task slightly by saying: "We get Embiid's point — that people are too hung up on nudity— but people are "acting crazy" because their private photos were stolen and made public ... and that (stinks)."
Embiid on Sunday Tweeted about the start of camp. "Training camp is here!!!!Time to learn #Sixers."
Origin: Self, who has held Boot Camp at KU, Illinois, Tulsa and Oral Roberts, was asked Saturday on the Jayhawk Radio Network how he first came up with the idea.
"I thought it was not smart to have a six-week training session (prior to start of season) outside of the gym on the track," Self said. "I thought, 'We'll do what we need to do leading up to the season through strength and conditioning.' We need to get our feet in shape, our bodies in shape so we came up with this Boot Camp deal.
"This year was tough. It's hard, but not that hard as long as your brain doesn't tell you it's too hard. A lot of times your brain gets in the way a bit. We get to the point (during season) where it's, 'Guys, we didn't do this for nothing.' Even though other teams may do something like it, it gives us a source of pride."