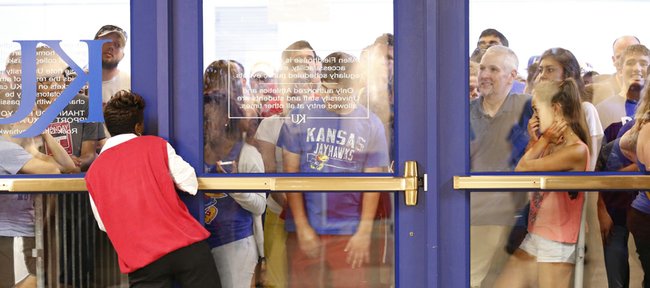 Kansas University's 30th-annual Late Night in the Phog will run from 6:30 to 9:30 p.m., Friday Oct. 10, in Allen Fieldhouse, KU officials announced Tuesday.
Admission is free for the ticketless, first-come, first-served event. Fieldhouse doors will open at 3 p.m. Children 12 and under must be accompanied by an adult. Doors will be closed when the arena reaches capacity. No re-entry passes will be distributed.
Because of fans storming the doors and jumping ahead of others in line last year, KU Athletics on Tuesday announced steps to ensure safety.
— KU and Lawrence Public Safety personnel will provide an increased presence.
— KU Athletics officials will open the fieldhouse entrances early if warranted by a large-enough crowd of fans gathering to enter.
— KU Athletics will increase communication with fans throughout the day, using social media, conventional media and on-site communication.
— As on game nights, KU students will enter through their customary separate entrance on the northeast side of the fieldhouse.
In anticipation of the construction of the DeBruce Center at the northeast corner of Allen Fieldhouse, workers have installed fencing that restricts access to some sidewalks next to the fieldhouse. The best way for students to access their entrance is to approach that entrance from the west side of the parking garage.
Late Night, which will include skits by KU's men's and women's teams and scrimmages of both squads as well as various videos, will be shown live on the Jayhawk TV Network, including ESPN3. It also will be aired on radio stations 1320 and 610. Fans are asked to bring nonperishmable food items to be donated to "Just Food" of Douglas County.
Zimmerman update: KU target Stephen Zimmerman, a 7-foot senior center from Las Vegas' Bishop Gorman High, will wait until late February to orally commit to a college, his mom, Lori, told several recruiting services on Tuesday.
Lori told Zagsblog.com her son will not be signing an official letter at any time.
"It doesn't protect the student-athlete, only the university," Lori told the website. Indeed, if a player signs a letter with a school and the school's coach leaves, the player must attend the university unless he receives a release.
Zimmerman, who is ranked No. 10 in the recruiting Class of 2015 by Rivals.com, will visit North Carolina on Oct. 3, KU on Oct. 10, Kentucky on Oct. 17. UCLA on Oct. 24 and Arizona on Oct. 31. He's also considering UNLV.
Brown may not wait until spring: No. 2-rated Jaylen Brown, a 6-7 senior forward from Wheeler High in Marietta, Georgia, who has said all along he'd pick a school in April, now tells ESPN.com there's a chance he could sign in November.
Brown, who will visit KU on Oct. 10 and Kentucky on Oct. 17, also has UCLA, Georgia and Georgia Tech on his list.
Bragg may sign early: Carlton Bragg, a 6-9 senior forward from Villa Angela St. Joseph High in Cleveland who is considering KU, Kentucky, Arizona, Illinois and UCLA, tells ESPN he is "leaning toward signing during the early period and get it over with."
The No. 14-ranked player will attend KU's Late Night.
Newman update: No. 3-ranked Malik Newman, who will sign in the spring, has yet to set up his visit date to KU. He's headed to Texas A&M; on Oct. 10, Kentucky on Oct. 17, North Carolina State on Jan. 11 and also will likely visit Miami.
Overseas option: Brown says he and other top preps could follow Emmanuel Mudiay's lead and skip college to play overseas a year leading up to the NBA Draft. Former SMU signee Mudiay will bypass college for China where he'll earn $1 million. He also has a shoe deal reportedly worth $3 million.
"Absolutely," Brown told Evan Daniels of Scout.com, asked if he would consider playing for pay in China instead of a one-and-done college season.
"I have a family to take care (of). I don't want my mom to work anymore, so it's something I'll have to talk about, and if it's on the table for me then I'll definitely think about it."