Monday, September 22, 2014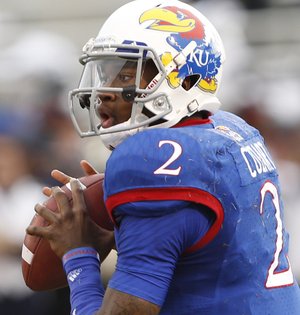 Saturday was tiebreaker time for Kansas University quarterback Montell Cozart, and the sophomore who entered Week Three with just five career starts leaned a little more toward his good performance in the season-opening win over SEMO than the bad one he put up in a Week Two loss at Duke.
That was the idea all week. And that was the reason for the offensive game plan KU coach Charlie Weis called "conservative" and Cozart called just fine with him.
"It felt real good just to get some completions," said Cozart, who finished 23-of-33 passing one week after completing just 11 passes in 27 attempts for 89 yards against Duke. "I told you guys earlier in the week that I just wanted to get the ball to our playmakers, and I did that."
The objective was evident early during KU's 24-10 victory over Central Michigan. Although Tony Pierson put Cozart's passing plans on hold by taking the first play from scrimmage — a run to the left — 74 yards for a touchdown, Cozart threw three short passes on KU's second drive and found three receivers: Pierson, wide receiver Nick Harwell and tight end Jimmay Mundine.
By the end of the first half, Cozart had completed 68 percent of his passes (15-of-22) and taken very few chances.
"I just wanted to come out and bounce back and get in a rhythm," he said. "We had some quick throws, bubbles, quick little five-yard routes, and I felt like I got in a rhythm early in the game."
That philosophy in the first half opened things up a little more in the second half, when Cozart again felt comfortable making tougher throws.
"Almost every pass we were throwing was of the short variety," Weis said. "We wanted to get his confidence back. He completed most of his passes in the first half, and then in the second half we felt good enough about letting him throw downfield."
By game's end, Cozart's 23 completions marked a career best and were the most by a Kansas quarterback in a year. Of course, many of them were can't-miss throws, passes for which Weis had another name.
"We didn't run the ball enough in the first half," Weis said of his team's 11 first-half rushing plays. "But a lot of those bubble (screens) really are runs."
Asked if he thought the approach was too conservative, Cozart didn't blink.
"No, not really," he said. "We just wanted to come out and show we were a different team. Last week (vs. Duke) wasn't who we are."
Next up for Cozart and Kansas is a much more significant test, as Texas, which comes in with a 1-2 record but the nation's 16th-most-efficient pass defense, comes to Lawrence for the Big 12 opener for both teams.
"Texas is pretty salty on defense," Weis said. "They roughed us up up front pretty good at their place. I think they'll try to do the same thing again."
Added Cozart: "We feel good about the (Central Michigan) win, and we've got Texas coming here. It's a Big 12 team, and you can't look at their record. They're gonna come in here ready to go. It's homecoming for us, so it's gonna be real personal for us, and we just want to get another Big 12 win and get this team going."
The Longhorns opened as 141⁄2-point favorites for Saturday's 3 p.m. kickoff at Memorial Stadium.