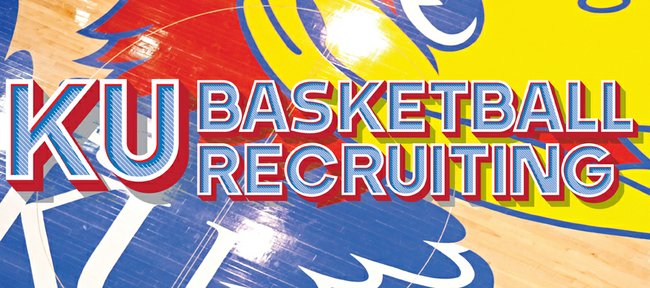 Kansas University basketball coach Bill Self and assistant Kurtis Townsend held an in-home visit with Las Vegas Bishop Gorman High senior Stephen Zimmerman on Monday night.
Zimmerman, the No. 10-rated player in the recruiting Class of 2015 by Rivals.com, said a good time was had by all.
"The coaching staff showed us a couple of videos," Zimmerman, a 7-foot, 240-pound senior, told Jayhawkslant.com. "One of the videos was a digital tour of what things will look like if I decide to attend Kansas. They showed a video of some of the past big men that have played at Kansas and how they performed. Coach Self also showed us a video of what the atmosphere is like at Kansas during a game. It was pretty cool. Kansas really, really covered everything."
Zimmerman will visit North Carolina (Oct. 4), KU (for the Oct. 10 Late Night), Kentucky (Oct. 17), UCLA (Oct. 24) and Arizona (Nov. 7).
"This is one of the big things that will help me decide where I want to go. I think five visits will be good, and that will be it. Distance really isn't a big deal," Zimmerman said.
Self was to visit No. 7-ranked Ivan Rabb, 6-9 from Bishop O'Dowd High in Oakland, California, on Tuesday night. And he's slated to visit No. 19 Tyler Dorsey, 6-4 from Maranatha High in Pasadena, California, today.
Howland, Greenberg to speak: Former UCLA basketball coach Ben Howland and former Virginia Tech coach Seth Greenberg will be featured speakers at Bill Self's Kansas Basketball Coaches Clinic on Oct. 18-19 in Allen Fieldhouse.
Greenberg also was head coach at Long Beach State and South Florida. Howland also was head coach at Pittsburgh and Northern Arizona.
For more information on the clinic go to http://ljw.bz/1qdXiQJ
Hudy to sign book: Andrea Hudy, KU's assistant athletic director for sports performance, will sign copies of her book, "Power Positions," from 5 to 7 p.m., Sept. 25, at Oread Hotel. Books will be on sale at the event and free tickets can be obtained at http://ljw.bz/ZoWaV7
"Power Positions is designed to provide specific exercise prescriptions just like a doctor's medical prescriptions to an athlete based upon the position that he or she plays," Hudy said. "An athlete is an athlete, but the position in the sport that you play is where the difference lies in terms of specific strength development, sequencing of force production and training. The training programs outlined in this book are neither age or gender specific; they are for everyone."
For a recent Journal-World story on Hudy's book go to http://ljw.bz/1vUxIJz
Self lauded by SI: Sports Illustrated's Seth Davis praised KU coach Self in an article at http://ljw.bz/1ARFGAq
"When it comes to discussing the best recruiters in the game, it seems the list is only allowed to include two people — Mike Krzyzewski and John Calipari, with the occasional Sean Miller tossed in. But Self is just as successful as those powerhouse procurers," Davis wrote. "His classes might not always have the same one-and-done sizzle (heading into last season very few basketball people believed Joel Embiid would be gone after his freshman year), but Self almost never has an 'off' year on the trail. And that means no 'down' years during the season.
"Self's recruiting success results from more than just his charm. It's also his strategy. He generally targets several of the top players at each position he is looking to fill. If the players dither too long, they know they might lose their shot at coming to KU. On the few occasions where Self does lose a player to another school, he has a backup ready to step in."