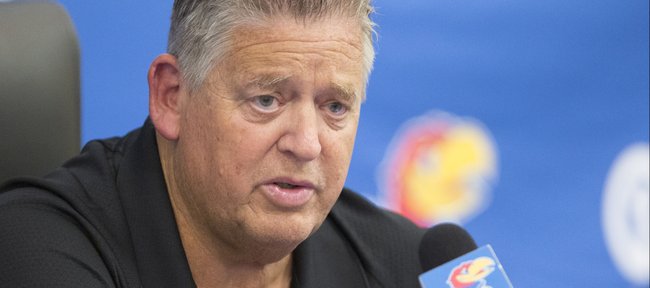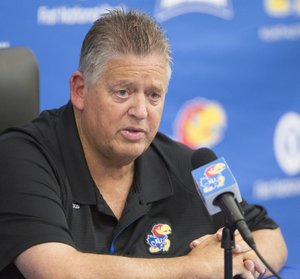 With an overall record of 5-21 in his two-plus seasons as Kansas University football coach, Charlie Weis knows that every game from here on out is big for the future of the program.
He said as much last week, and then the Jayhawks went down to Duke and were drubbed, 41-3. He was back at it again Tuesday, when asked about the magnitude of Saturday's home game with Central Michigan, this time with less optimism and a heavier dose of reality.
"I think everyone knows that this is a critical game," Weis said of Saturday's 2:30 p.m. kickoff against the Chippewas (2-1). "Because now you go into the Big 12 stretch that we're about ready to go into, and this kind of sets the table. (It) either sets the table well, or it sets the table where you're really, really fighting an uphill battle."
Just about everything surrounding Kansas football has been a vertical challenge during the past five seasons. You know about the Big 12 losing streak that finally was snapped late last season. You know about the road losing streak, which grew to 28 straight with last week's loss at Duke. And you know about the coaching turnover, the revolving door at quarterback and the players who have come and gone, some with incredible hype followed by colossal flops and others because of legal issues, personal problems or the coach's discretion.
All of those issues and so much more have brought us to this point, where the downtrodden program is fighting for something to go right and struggling to explain why such a fate is so difficult.
More weeks than not, Weis and his players have had to move from one game to the next with the idea that what just happened doesn't matter and what's ahead should dominate their focus. That was the case again this week, and, during his regular Tuesday meeting with the media, Weis said the team had moved on.
"That game's gone for the players," Weis said of the hangover of the loss to Duke. "It might not be gone on the street, but I couldn't tell you the street because from the second we got back, it's been all, 'Identify what the problems are.'"
He continued: "You can't turn away from a game like that and ignore the things that didn't go well. I addressed the coaches on things I don't like there. I addressed the players on things I don't like there. But you can't ignore the things that didn't go well."
In an attempt to avoid repeating it, Weis carved out time earlier this week for his team to watch Central Michigan's entire 48-17 victory over Purdue from Sept. 6, a game that, as Weis pointed out, would have been even worse had the Boilermakers not added a late garbage touchdown.
"It was a domination by Central Michigan on offense, defense and special teams," Weis said. "Not for one second did I want our team to leave here not respecting who they're going against."
The purpose behind the full-length feature was two-fold. On one hand, it was intended to ensure that the Jayhawks respect their next opponent. On the other, it was yet another way to emphasize that it's time to move past last week's debacle at Duke.
"They know that they better be ready to bring it, and you don't have time for sulking," Weis said. "... You've got to put that (Duke) game in the rearview mirror, and you've got to be focusing on Central Michigan because if you don't, you'll get whupped again."
QB progression change?
It's no secret that last Saturday was one of quarterback Montell Cozart's worst outings. So it makes sense that both Weis and offensive coordinator John Reagan have spent extra time trying to drum up ways to pull their quarterback out of his funk. While many of those have emphasized the mental approach, one on-the-field change might have the biggest impact.
"When you roll out of the pocket, normally people read things top-down," Weis said of a quarterback surveying a defense. "Maybe this week, instead of reading them top-down, maybe they're going to read them bottom-up, so if somebody is there right now, go ahead and give it to him."
In addition to working on everything involving Cozart, from head to toe, the coaching staff plans to work a little on the man Cozart spends the most time with, junior center Keyon Haughton.
"Put it like this," Weis said. "I'm glad there are lights out there because when the practice is over, the quarterback and center are going to hang out together for quite some time. I don't know what time tutoring starts, but hopefully they'll be in in time for tutoring."
Physical Tuesday
Both in response to last week's dud at Duke and in preparation for a rough and tough Central Michigan squad, Weis said Tuesday's practice would be full of heavy hitting.
"You won't have to worry about whether or not today will be a physical practice," he said. "And you'll have Reagan and (defensive coordinator Clint) Bowen right in the middle of it. As a matter of fact, normally (Reagan) just gives the play to the signal caller, and it goes from there. Today, he has (quarterbacks coach) Ron (Powlus) giving the plays to signal callers, and he's going to be right in the middle of everything, all over 'em."
Both Bowen and Reagan said they were looking forward to firing things up.
"I think any time you have a loss that was disappointing in that fashion," Bowen said, "the one thing we as players and coaches look forward to is getting back on the practice field and doing what we like to do."
Added Reagan: "For three days now, all we have been able to do is think about (Duke) and address the issues verbally, but now we get to go out there and do something about it."
Depth coming through
All offseason, Weis and his coaching staff touted the improved depth on the roster as something that could make 2014 different than recent seasons. Through two games, Bowen said KU's added depth has made a major impact on the Kansas defense.
"We have been fortunate, and we've been able to rotate," Bowen said. "Last game we played all 22, and even in the thick of things we have been playing 20 to 21 kids who have all gone out and gotten their job done. We are really confident in the backup players that we have."