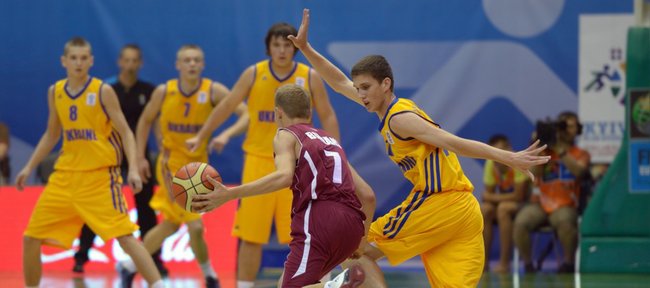 Kansas University basketball freshman Sviatoslav Mykhailiuk flew out of an airport in Ukraine about 10 p.m. Central time on Sunday and, after a 191⁄2-hour journey that had connecting flights in France and Minnesota, pulled into Lawrence about 5:30 p.m Monday.
"He's worn out," KU coach Bill Self said Monday night, referring to the 6-foot-8, 195-pound shooting guard, who starts his first-semester classes today after spending the summer playing for both Ukraine's World Cup and Under 18 European championship teams.
"I asked him, 'Are you wanting to work out tomorrow?' He said, 'Heck, yeah, I'm going to work out,'" Self added. "He's worn out, but he's also excited to get started."
What's ahead for the 17-year-old Mykhailiuk in his first few days as a Jayhawk?
"He'll be getting organized, signing up all his paperwork and hopefully be in class sometime tomorrow (today)," Self said. "I mean, we're only going two hours a week (of workouts in accordance with NCAA rules) and playing pick-up. He'll start doing everything our other guys have been doing by tomorrow afternoon."
Self said Mykhailiuk looked great Monday, except for being travel-weary.
"Physically, nothing's changed to me," Self said. "He's a long, lean kid. I don't know what he weighs. I asked him if he lost some weight over the summer. He said, 'No.' If anything, he may have gained a couple pounds. He's been lifting and doing whatever he can with the national team."
Self naturally is pleased Mykhailiuk, who signed with KU on May 21, fulfilled his commitment. He was named MVP of the Under 18 championships after averaging 16.0 points in nine games off 41.8 percent shooting. He played sparingly for the World Cup team.
"He had opportunities to stay over there (and play professionally)," Self said. "I'm sure there were numerous opportunities after this summer. He committed to us. He certainly held true to his commitment. He's with us. His job is to work hard. It's our job to put him in position where he can be the best player he can be. I'm excited. I know he's excited, and certainly we're all ready to get going. Even though we still have a little bit of time, it's different. We only have 31⁄2 weeks before our first practice (Oct. 3, with Late Night Oct. 10). Certainly it's good to have our full complement of players here."
Self, who will hold an in-home recruiting visit with Rivals.com's No. 3-rated player — Malik Newman of Jackson, Mississippi — today, said the two-week Boot Camp conditioning program for his players will begin Monday. Mykhailiuk will, of course, participate in that activity.
"I enjoy September. I am looking forward to going into homes (of prospects all month), selling people our product," Self said. "We think our product is pretty good. I'm certainly excited about that."