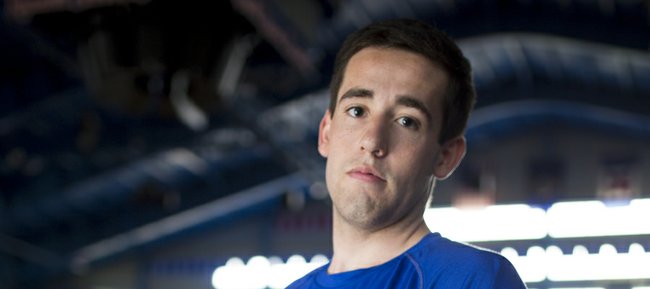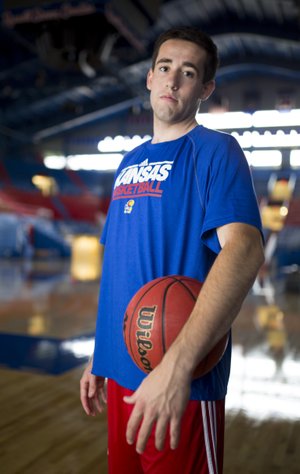 Clean-cut Kansas University basketball walk-on Josh Pollard appears to be a bit more conservative than his uncle — always-outspoken Scot Pollard, who painted his fingernails and toenails in college and wore a mohawk and mutton chops in the NBA.
Will people assume Josh has the same personality as his flamboyant relative?
"If they do," Josh Pollard said with a grin, "I think their opinions will change pretty quick."
Josh Pollard, who at 6-foot-4 is seven inches shorter than former 11-year NBA veteran forward/KU graduate Scot Pollard, actually has grown up with a kind, gentle version of the man who plays Axeman in the movie "Axeman at Cutter's Creek."
"He's calmed down a ton," Josh said. "I was young when he was in the NBA. I don't remember a lot of the details. The Scot I know is super-mellow."
Loving uncle Scot made sure Josh experienced the highest level of basketball up close and personal several years ago.
"I remember going to some of the Sacramento Kings games. I was pretty young, so I don't remember a lot of details," 21-year-old Josh Pollard said.
Now 39, Scot played for the Kings from 1999 to 2003.
"When he was on Cleveland ... when Cleveland was in the finals, he flew me and my older brother out there," Josh recalled. "We watched the series — Cleveland against the Spurs (2007 NBA Finals)."
Josh, who averaged 8.8 points, 6-2 rebounds and 4.7 assists a game his senior year for Utah state champion Orem High prior to embarking on a two-year Mormon mission, did not grow up a KU fan.
However, he did have a curiosity about where uncle Scot played ball.
Another of his 7-foot uncles, Neal, played down the road at Washburn.
"I knew he had played here," Josh said. "The year before my senior year, I was looking at some skill camps online. This one (at KU) popped up. I sent him (Pollard) a text not thinking a lot of it, just wanting to come out to see where he had gone to school and where he had played.
"He said, 'Yeah, for sure.' I came out. It was a two-day (elite player) camp. I remember Landen Lucas (KU red-shirt sophomore) also was at the camp. I went back, played out the year, ended up winning the state championship. My uncle Scot texted me and told me that coach (Bill) Self had watched the state semifinal game and was interested in me coming out after my mission. Coach Self called me and offered me that preferred walk-on spot."
So Josh knew he'd be a Jayhawk prior to heading to Los Angeles for his two-year mission.
For the past two years, he figured he played hoops a total of 10 times.
"It's 24 hours, seven days a week, no breaks. It's hard but rewarding," Josh said of mission work. "You learn to love the people and appreciate the blessings you have. You come to love and believe the principles you teach because you see how it blesses people's lives."
Rules indicated he could call home just twice a year — on Mother's Day and Christmas. He could e-mail home once a week.
"You have success," he said of the missionaries. "The goal is inviting people to come unto Christ. It's very Christian. You help people change their lives to live the principles that Jesus Christ taught. That's your whole purpose, helping people live that type of lifestyle."
He completed the mission in July and has been at KU the past few weeks.
Obviously, it has been tough getting used to the grind of major-college basketball. That's why he indicated he'll probably red-shirt this season and have five years to play four.
"I think it'll take my body some time to get readjusted after not doing anything for those two years," Josh said. "I'm getting over the edge of the soreness every day. I think my body needs some time to get back in shape. I think it'll take me a couple months to get where I want to be and move on from there."
He said he has been quite impressed with Perry Ellis, Wayne Selden, Conner Frankamp, Frank Mason ... "everybody really," Josh said. "I expected everybody to be good. They're all really good.
"I'm super-excited. It's sinking in a little bit more the longer I've been here. It was an adjustment going from that type of lifestyle, teaching people about the Savior every day to workouts and lifting and doing this routine every single day. It's fun to be part of. I'm starting to love it already in two weeks," added Pollard, who is thinking about a finance degree.
Self likes what he has seen of his newest player.
"Josh comes from the Pollard family we all know and love and is going to be a walk-on for us. He was a good high school player and I told him he would definitely have the opportunity to work out with our team. We're excited to have him. We really don't (know) at what level he will be a contributor but he'll have an opportunity like everyone else. I'm looking forward to seeing how he reacts to guys that have been involved with our program the last couple of years. I know he's excited to be a part of it," Self said.
For Scot Pollard's take on his nephew playing at KU read the Journal-World article at http://ljw.bz/1xnvsvc
Recruiting: Tyler Cook, a 6-8, 240-pound junior forward from Chaminade Prep in St. Louis, will attend the Oct. 10 Late Night in the Phog, jayhawkslant.com reported Friday. He's ranked No. 93 in the Class of 2016. ... Thon Maker, the No. 1-rated player in the Class of 2016, has withdrawn from Carlisle School in Martinsville, Virginia, and will attend Athlete Institute in Ontario, Canada, this year, Rivals.com reports. It's possible Maker, who is considering KU, could enter the recruiting Class of 2015.