Photo Gallery
Kansas football v. Southeast Missouri State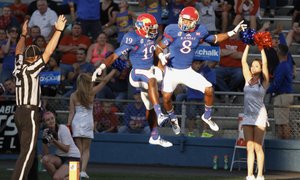 Images from Saturday's season opener between the Jayhawks and Redhawks of Southeast Missouri State.
KANSAS 34, SEMO 28
Podcast episode
Kansas University football coach Charlie Weis talks about what went right for the Jayhawks early against Southeast Missouri State and why the game ended up being so close.
KEEGAN RATINGS
Just when it looked as if the Kansas University football team had turned to a new place kicker, sophomore Matthew Wyman, the hero of last season's Louisiana Tech victory, went trotting onto the field for the first field goal attempt of Saturday's 34-28 victory against Southeast Missouri State at Memorial Stadium.
And he drilled a 43-yarder like he was expecting to be out there all along.
In fact, Wyman was pretty sharp all night, finishing 2-for-4 on field goal attempts — one 49-yard try was blocked — and drilling all four extra-point tries.
"Wyman hit the ball pretty well all night," said KU coach Charlie Weis of his kicker, who, just last Tuesday, appeared to have been beaten out for the job by freshman John Duvic. "Forget about the one that got blocked because he didn't have a chance. But even the one he missed from 49 yards, he hit that one really solid."
So why Wyman instead of Duvic?
"When Duvic was named the starting kicker this week, it didn't go too well," Weis said. "We'll just leave it at that. I don't think he was quite ready for me to say 'You're the guy.'"
Wyman's night brought his career numbers to 7-for-14 on field goal tries and 16-for-19 on point-after attempts.
Fans' choice
After casting thousands of votes during the past couple of weeks, KU fans chose blue jerseys, white pants and red helmets with what fans have dubbed "the angry Jayhawk" on them for the season opener.
The fan vote was part of a promotion unveiled by KU athletics in late August, with the winner joining the blue-top, blue-helmet look along with the gray uniforms that KU wore during last year's home victory against West Virginia.
No official numbers were made available, but one KU official said the final vote was not close.
Female official
Saturday's game was officiated by the first female official in Big 12 Conference history, as center judge Cat Conti worked with the crew that called the game. Weis said earlier this summer that it made no difference to him whether it was a male or female official on the field and, last week on his Hawk Talk radio show, he tipped his cap Conti's way.
"Props to her," he said. "She's obviously proved that she belongs out there."
Freshman flavor
Five true KU freshman played a significant number of snaps in their first ever college game on Saturday. Led by running back Corey Avery, who tallied 91 yards and a touchdown on 19 carries, freshmen Matthew Boateng, Derrick Neal, Junior Visinia and Kyron Watson all got in to Saturday's game.
"Some of these guys are actually, legitimately gonna help us," Weis said. "We really believe that. Obviously Corey's gonna help us. Kyron played a bunch in there. Boateng played a bunch. And there are a lot of other guys that we would've liked to play, the game just didn't play out like that."
First-time KU starters included: Avery, defensive linemen Michael Reynolds, Tedarian Johnson and T.J. Semke, wide receiver Nick Harwell and center Keyon Haughton.
This and that...
The Jayhawks won Saturday's opening coin toss and chose to defer their choice to the second half. SEMO elected to receive the first-half kickoff.... The victory marked the fourth consecutive season-opening win for Kansas.... Senior linebacker Ben Heeney led the Jayahwks with 11 tackles.... Senior cornerback Dexter McDonald recorded two interceptions.... Senior punter Trevor Pardula averaged 45.2 yards on four punts, including a long of 51 yards, his 26th punt of 50 yards or more in 13 career games.... Temperature at kickoff was 74 degrees, under sunny skies with winds of 8 mph out of the northeast.