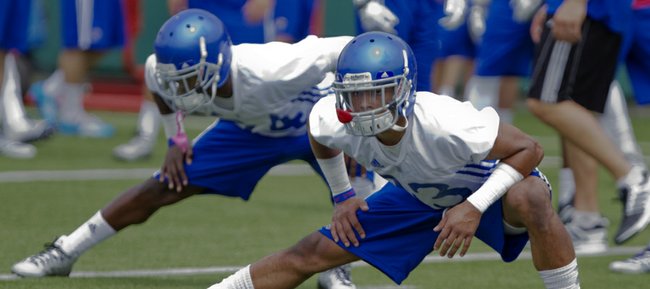 You know those game show contestants who get on a roll, answer all the questions right and make it seem as if the other players aren't even in the room?
That's Kansas University senior Cassius Sendish in the defensive-back meeting rooms.
And that's why safeties coach Scott Vestal added a game-show element to their daily meetings.
"In our room, we have a No-Cassius Question, because he'll literally answer every single question," Vestal said. "So I'll be like, 'OK, what are we gonna do here, and how are we gonna do this? Cassius, do not answer.'"
It works most of the time but usually just for that one question. After that, the 6-foot, 195-pound safety taps back into his brain and pulls out even the littlest details about what every defensive player on the field is supposed to do in any given situation.
"I used to always joke with him, 'Man, we're not playing "Jeopardy." You can give somebody else a chance,'" joked senior cornerback JaCorey Shepherd. "That's just how he is. He understands it. He knows it. And we listen to him. Why not have a safety who knows what everyone else is doing? It helps. It helps a lot."
It's no accident.
Sendish, perhaps more than any other player in the program, puts a premium on studying and truly enjoys that aspect of the game.
"How you do something is how you do everything," Vestal explained. "Are you the guy that sits in the back of the room and slumps? Then that's how you're gonna be on the field. That's how you're gonna be in the classroom. Cassius is Front Row Joe in every single meeting. He stalks you with his eyes in the meeting room. It's almost unnerving."
So impressed with Sendish is KU coach Charlie Weis that he recently proclaimed that the junior-college transfer set to begin his second season with the Jayhawks may not be the best player on KU's defense but was, without question, the skipper of the secondary.
"Cassius is probably the most natural leader on our team," Weis said. "I can't see one thing about the kid that I don't like. I'm a big fan."
A lot of this might be news to most people. Sure, Sendish was third on the team in tackles last season with 68, and, yeah, his name is one that usually raises an eyebrow and sticks in your mind.
But there's nothing flashy about what he does on the field.
"The thing with Cassius is, he makes a lot of routine plays," Vestal said. "It may be a six-yard tackle, but some people miss that tackle, and it becomes a house call. Cassius does what he's supposed to do."
KU linebacker Ben Heeney, the opposite of Sendish in a lot of ways — loud game, well known name, native Kansan — said Sendish was the one player he made sure to communicate with before every snap. The two usually line up on the same side of the field, and Heeney said the comfort that comes from knowing Sendish is behind him is what allows him to let it rip.
"He's one of the guys I can always count on," Heeney said. "He's one of the biggest keys to our defense."