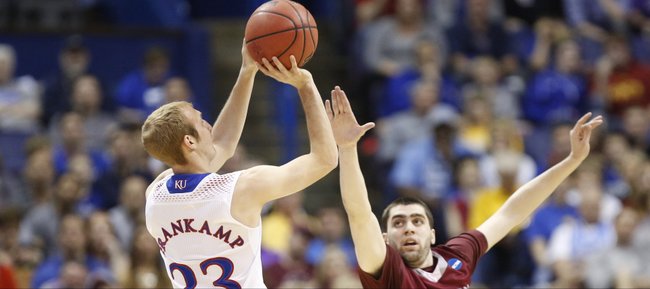 Podcast episode
Kansas University men's basketball coach Bill Self speaks with the media Friday afternoon about sophomore guard Conner Frankamp deciding to transfer from the program.
Kansas University sophomore guard Conner Frankamp has decided to transfer to a yet-to-be-determined school, KU coach Bill Self told the Journal-World Friday morning.
Shortly after, Self discussed the matter at his first weekly media luncheon of the season.
Frankamp, a 6-foot, 165-pounder from Wichita North High School, played sparingly last season. He had hoped for additional playing time this year.
"I met with Conner and his father (Martin Frankamp) Wednesday to discuss his situation and opportunity this season at Kansas," Self said. "On Thursday he informed me he was going to transfer at the end of this fall semester. From this point forward he is no longer part of this team and will not participate this semester so he can transfer after Christmas and have two-and-a-half years remaining when he becomes eligible after sitting out one full academic year.
"This was disappointing news to us. Conner is a fine young man, a very good basketball player and certainly part of what we had envisioned not only our future but also as an impact guy for this upcoming season," Self said, indicating he would have been "definitely been part of our rotation" and "playing significant minutes" during the 2014-15 season, which opens Monday versus Washburn.
In fact, Self said he would have started in the exhibition on Monday night.
"We still have six other very good perimeter players. We're looking forward to all six of those guys contributing in a big way and meaningful minutes throughout the course of the year. Conner will finish this semester academically and will continue to get academic support from us. We wish him the best in his decision making of his new school and in his future basketball endeavors," Self said.
Frankamp, who averaged 11.0 points per game and went 7-for-14 from three-point range in the NCAA Tournament, has not said where he will transfer. Last year, it was rumored he was considering a move to Creighton.
"I've been thinking about this for a while now," Frankamp said. "I love KU and I love the Jayhawks. I feel like I've improved quite a bit since I've been here. I love my teammates but I just don't feel like it's the right fit for me. We have many good guards and so many big-time players. I want to be at a place where I could play a bigger role.
"Coach Self has been a great coach to me, I've learned so much under him," Frankamp added. "He's not only a great coach but has been a great mentor for me. I can talk to him about almost anything.
"The Kansas fans are amazing, probably the best in the country," Frankamp added. "I want to wish my teammates good luck. They are like family to me and I want to see them succeed. I'll still be rooting for them to win and everything."
Self at the news conference was asked if this was all about "playing time."
"You know, it wasn't anything that we wanted to have happen, just like I said. He was part of our future plans, and certainly we anticipated him playing a much, much, much larger role this year. But still, this early in the season, it's yet to be determined what role everybody is going to have. But we knew that he would definitely be part of our rotation and certainly be playing significant minutes. But he and his family felt like it was in his best interest to pursue other options for reasons that I'm sure were very true and very valid to them."
Self said with the team having seven talented perimeter players, this actually could help some players' frame of mind.
"We've lost obviously a very good shooter, but we may have also gained some chemistry issues, where now I think guys will be more locked in and more able to probably figure out what their role will be because they'll definitely be anywhere between 10 and 20 or 10 or 23, whatever minutes there would be to go around, amongst the other guys," Self said.
"Well, you know what, somebody was going to left out (of rotation on perimeter). We've got seven good perimeter players, and really to be quite candid with you, there hasn't been a lot of separation. Sometimes you hope there's separation, so we definitely know they're our three best perimeter players and we definitely know these are the two best guys off the bench, and there hasn't been that yet. I was going into it thinking we had to find out a lot about our team and find out which five to seven would probably be in our serious rotation, and Conner, as of today, would have definitely been in that, without question.
"But we also don't know about our team. We don't know how Kelly (Oubre Jr.) is going to come along, Devonte' (Graham) and how Svi (Mykhailiuk) is going to come along and things like that. There's a lot of unknowns on the perimeter."