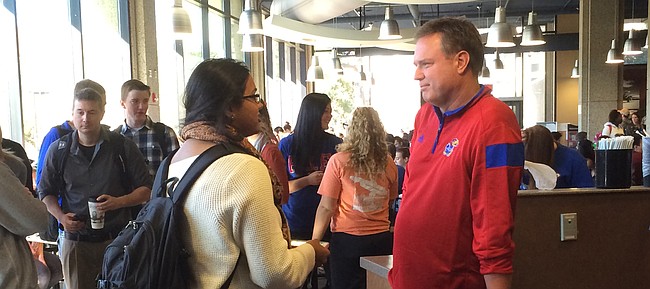 Kansas University men's basketball coach Bill Self, never lacking in the category of popularity points on campus, padded his total Thursday afternoon. The head coach and his staff stopped by the Underground at Wescoe to pick up some lunch tabs.
"We came up and hung out with the students – I don't get a chance to do that very often," Self said in a release from KU. "We were able to buy many meals for students as they went through the line to pay, so that was fun. It was a good day. It's always great to interact with the kids. Since we had a day off today, it was a good way to relax a little over lunch."
Some students did double-takes as Self walked by on campus. As word spread through texts, social media and plain-old word of mouth, the Underground grew even more crowded.
For about an hour, Self and his staff bought lunches, posed for photos and talked hoops with the lines of students.
"This place was packed when we came in here," Self said. "When the students camp out (in Allen Fieldhouse), it's amazing to me that I'll go down to talk to them, but they never really talk to me. But I come up here and all of them wanted to talk so that was good. It was fun to hang out with them."