Monday night's 60 years of Allen Fieldhouse celebration might have been about a building that began with a $2 million budget in 1955 and still stands strong today, but, for several former Kansas University players who once called the venue home, it was as much about the men who made memories inside of it as anything.
Photo Gallery
Allen Fieldhouse 60th anniversary celebration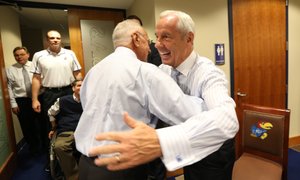 Images from Monday night's 60th anniversary celebration of Allen Fieldhouse.
60 years of Allen Fieldhouse
Here's a quick look at some of the highlights from the press conferences with the four KU coaches honored on Monday night.
Podcast episode
Former Kansas basketball coach Roy Williams, now the head coach at North Carolina, talks to the media Monday at Allen Fieldhouse, about what makes the 60-year old venue "the best."
Podcast episode
While recalling some of his memories of the building he once worked in, former Kansas basketball coach Ted Owens says Allen Fieldhouse used to be a "big old barn," and in the offseason there wasn't even a court inside of it for the Jayhawks to use.
Podcast episode
In all of his time around college basketball, SMU coach Larry Brown, in Lawrence for "Celebrating 60 Years of Allen Fieldhouse," says his former Kansas superstar Danny Manning was the best college player ever.
Podcast episode
Kansas coach Bill Self describes how the "Celebrating 60 Years of Allen Fieldhouse" event came about and shares his thoughts on the old building, calling it "a treasure," while admitting it needed a pick-me-up when he first arrived.
With blue carpet and formal dining tables spread across the fieldhouse floor, four of the biggest names in the building's history were cheered together, as former KU coaches Ted Owens, Larry Brown and Roy Williams, along with current KU coach Bill Self, were the guests of honor at the celebration.
"To get Bill Self, Larry Brown and Roy Williams in the same room at the same time is a once-in-a-lifetime thing for me," said former KU center Eric Chenowith, who played at Kansas from 1998-2001 and also tipped his cap to Owens. "I mean, who else can say they've done that?
"I came to KU because I loved Larry Brown, and, as a Los Angeles Clippers fan growing up, I loved his teams. I obviously played for coach Williams, and I've been lucky enough to develop a great relationship with coach Self. Talk about catching lightning in a bottle."
More than two dozen former Jayhawks from all four eras, along with all 16 current Jayhawks and several other KU coaches and administrators, joined 7,500 KU basketball diehards for the stroll down memory lLane that included speeches from the coaches, more than a few laughs and rousing cheers in response to the highlight videos that played on the video board. But the former Jayhawks in attendance who played for Williams from 1989-2003 said seeing their old coach back in his old home was an experience several years in the making.
"I know coach, and I know this is very emotional for him," said former KU guard and Topeka native C.B. McGrath, now a member of Williams' coaching staff at North Carolina. "The fans in Kansas City, when the NCAA Tournament was over there (2013), were very nice to him and gave him a great ovation. He needs that. He deserves that. It was time for him to come back. It's something that needed to happen, and I'm glad it did, and I'm glad to be here for it."
Former KU sharp-shooter Billy Thomas, who played for Williams from 1995-98, shared McGrath's sentiments.
"To see him come back, it means the world to me just to be present," Thomas said. "He's largely responsible for the man I've become. It goes that deep, and it goes way beyond basketball."
Added Chenowith: "Every time I see coach, I still light up like I'm a high school sophomore getting recruited. It never gets old."
Despite their obvious emotion and appreciation for Williams' return, all of the former players in attendance made sure to emphasize that the night was far bigger than a single man.
"This is not about Kansas, and it's not about North Carolina," Chenowith said. "It's about Allen Fieldhouse. And what an incredible place. No words can describe how special the KU basketball family truly is."
Added former KU guard Jeff Hawkins, who played for Williams and Self from 2002-06: "I was blessed to be coached by two legends, and I'm just here to soak up as much knowledge as I can, just like I was at practice. What an amazing night for Kansas basketball and for basketball in general."
The former Jayhawks interviewed for this story shared their favorite memories of playing in Allen Fieldhouse. From Thomas' special moment with Williams after breaking KU's career three-point-shooting record — "This corner," Thomas said, gesturing to the southeast corner of the floor where he hit the shot — to Hawkins' recollections of celebrating big victories and several similar memories from the coaches themselves, the big moments came rushing back.
But few were as telling as McGrath's.
"The best news for me was we never lost a game here," he said. "That just doesn't happen. As a player, I never went into that locker room as a loss, so there are no bad memories."
More coverage of 'Celebrating 60 Years'