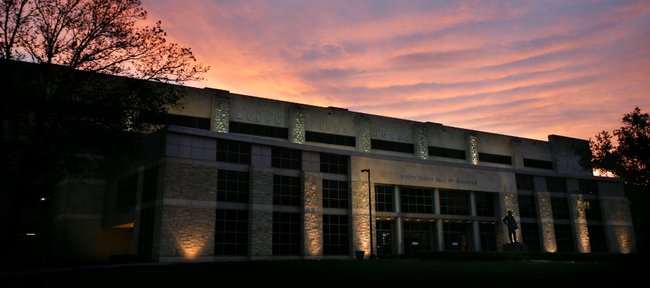 Jay Bilas is to college basketball what Charles Barkley is to the NBA, which is to say the smartest, funniest, most candid commentator on the air.
Barkley's a more famous golfer than Bilas, thanks to an incurable swing flaw that's as uncomfortable to watch as "Curb Your Enthusiasm" in mixed company.
Bilas knows his golf, though, and he knows his Kansas University basketball.
He nailed it when he called Allen Fieldhouse "the St. Andrew's of college basketball."
After watching KU's Sunday practice down the hall from the fieldhouse in the practice gym, Bilas expounded on that comment.
"That building has a soul," Bilas said. "You can feel the aura of the building even when it's empty. That's one of my favorite times to be there. Before or after practice, when nobody's there and you're just kind of looking around, it's understated but beautiful. It's been updated, but it's still old-school."
As a high school basketball standout in Southern California, Bilas watched closely as Larry Brown's young UCLA team made it to the Final Four. Bilas scheduled a visit to KU with then-coach Ted Owens, but canceled after he committed to Duke, which plays in charming Cameron Indoor Stadium.
"They're both so great," he said of the two basketball venues. "They have the same dimensions on the court, but they're different. It's like the difference between Pine Valley and Augusta, the top two golf courses in the world. Are you going to sit and argue which one is better? They're both amazing experiences, and the feel, you just can't describe it."
Bilas was the perfect choice to serve as host of tonight's event featuring KU's four living head coaches, Owens, Brown, Roy Williams and Bill Self.
"I think that all four of them are teachers, really good teachers of the game," Bilas said. "They're all demanding without being demeaning, and it's really incredible to watch. That's what the great coaches are. I don't think any of them really coach out of fear. They want their players to achieve, to play without fear of making a mistake."
The presence of the four coaches should make for a memorable night in a building that has had so many, a building where Wilt Chamberlain, Danny Manning, Paul Pierce and Jo Jo White, to name a few, played for the home team, Wayman Tisdale, Kevin Durant and Blake Griffin played for the visitors, Oscar Robertson and Larry Bird played in the NCAA Tournament, Elton John played piano, and Bobby Kennedy and Bill Clinton spoke.