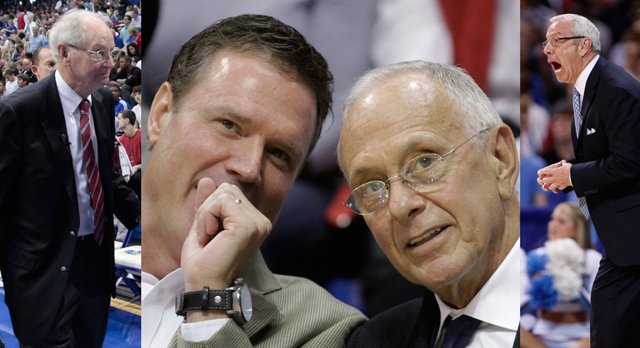 Fab Four return
Coach (Years) AFH Record
Ted Owens (19) 206-47
Larry Brown (5) 71-5
Roy Williams (15) 201-17
Bill Self (11) 175-9
Kansas University basketball coach Bill Self is looking forward to seeing 7,000 fans show their appreciation to former KU mentors Larry Brown, Ted Owens and Roy Williams during tonight's "Celebrating 60 Years" event in Allen Fieldhouse.
Brown, the current coach at SMU, and Owens, an investment business adviser in Tulsa, Oklahoma, have been frequent visitors during the 12-year Self era, while North Carolina coach Williams hasn't been in the fieldhouse since accepting the UNC job after KU's 2002-03 Final Four season.
"The reaction toward him? It'll be perfect," Self said Sunday, asked specifically about Williams, whose decision to leave KU was unpopular, to say the least, among KU fans.
"This is a day to honor a building, and of course all the coaches who are here have definitely played a role in the history of Allen Fieldhouse. There should be nothing but positives come out of tomorrow," Self added of today's show, which will start at 7:30 p.m.
All four coaches will speak after being introduced by one of their former players. Tyrel Reed will introduce Self, Bud Stallworth will introduce Owens, Chris Piper will introduce Brown, and Scot Pollard will introduce Williams.
"Roy was loved so much everybody hated to see him leave (KU)," Self said. "It's Roy's first time to come back publicly, and I know he's really excited about it. It's going to be a great day.
"Certainly there should be a lot of great times tomorrow (today). I think it'll be one of the more fun events we've done in the building and certainly the most fun we've had without a basketball."
Self said there's a chance longtime broadcaster Max Falkenstien also will speak to the fans. There will be videos of the four coaches' eras and an Allen Fieldhouse video shown on the center scoreboard.
"It's going to be off-the-charts cool," Self said, noting about 800 fans will sit at tables on the floor, with the rest in the stands, totaling about 7,000. Tickets remain on sale today.
Practice update; Mason to be starter: ESPN's Jay Bilas, who will emcee and host a roundtable discussion, attended KU's three-hour practice Sunday.
"I thought we were actually pretty good until today. We were bad today," Self said. "We've got a lot of stuff to get in and a short amount of time to do it. For the most part, they (Jayhawks) try hard."
Asked if sophomore point guard Frank Mason had started to separate himself from others at lead guard, Self said: "Frank's going to be a starter. He's been consistent for the most part until today.
"The situation is, we really haven't had, whether it be Devonté (Graham) or Conner (Frankamp) or Brannen (Greene) or Svi (Mykhailiuk) or Kelly (Oubre, Jr.), all those guys are about the same right now. So we haven't had a lot of separation as far as our third perimeter player (behind Mason and Wayne Selden Jr.).
"Going back to the beginning of practice, our best performers have probably been Jamari (Traylor), Perry (Ellis), Frank and Wayne, but we've had other guys that have been some of the better players in practice, just not consistently better. Those are the guys who probably have been the four most consistent," Self added.
He was asked about sophomore forward Landen Lucas, who is back from a stress fracture in a lower leg that kept him out about two weeks.
"I think we have three really smart big guys in Landen, Jamari and Perry," Self said. "Cliff (Alexander) and Hunter (Mickelson) just don't have any experience. They'll be fine in time. Those three are much more advanced as far as knowing how to play the way we want to play. They've been doing it all for two years so they have an advantage over everybody else."
Ted reflects: Former KU coach Owens patrolled the home-team bench in the fieldhouse for 19 seasons.
"First of all, when they built it, what a magnificent structure. It's as strong today as it was 60 years ago," Owens said. "It has that wonderful mix of being really modernized inside, but it still holds that wonderful feeling of tradition and history. It's really unique. A lot of universities have built new arenas and so forth, and that place has stood the test of time.
"I think almost any person who loves the game of basketball, people like Aaron Rodgers (Green Bay quarterback) as an example, that was on his bucket list to come to Allen Fieldhouse. It's an incredible place with a wonderful history. I am honored to have been a small part of it over the years, to have that privilege. I think Bill (Self) said it best, he said those of us who coached there are just caretakers. I've had the privilege of being a caretaker for 19 years, and it was a special honor."
Williams enthused: Of tonight, Williams said, "There's no question it'll be an enjoyable time. It will allow me to get away from the focus of all the stress going on right now trying to get a team ready for this season. I'm sure the memory I'll have will be of all the people and all the great players and the great wins — 60th birthday is a pretty good number for Allen Fieldhouse too."