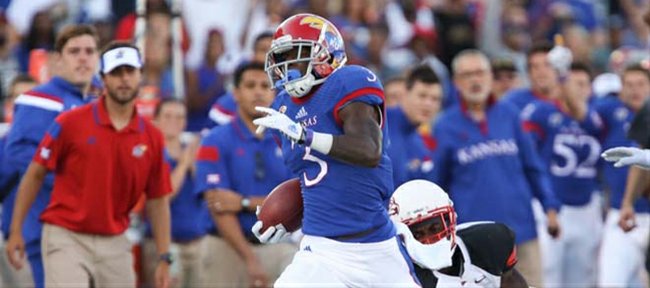 Kansas University senior Tony Pierson, who missed all but two plays of last Saturday's 34-21 loss at Texas Tech, is being evaluated by doctors this morning for an injury in his neck area and the full scope of the injury is not yet known.
Interim coach Clint Bowen shed a little light on the subject during the weekly Big 12 coaches teleconference.

"He's getting to the doctor today to get a neck type injury checked out," Bowen said. "He's at the doctor this morning, doing the whole run-down done on him to find out exactly what we've got going on. We haven't got the final word yet on exactly what it is."
Despite the continuation of tests and evaluation, Bowen said he was encouraged by what he saw from Pierson during treatment and meetings on Sunday. KU did not practice Sunday.
"Yesterday, Tony looked good," Bowen said. "He was moving around well, doing things all right, so it doesn't look to be something really bad."
The timing of the setback could not be much better for Pierson, who is one of KU's top offensive weapons but will have some time to heal. The Jayhawks are off this week with their second and final bye of 2014 and will jump back into their schedule Nov. 1 at Baylor.
Bowen said the Jayhawks (2-5 overall, 0-4 Big 12) would focus on fundamentals and the little details they haven't had as much time for during the off week. He said the team will practice Tuesday, Wednesday and Thursday before taking Friday and Saturday off. After that, they'll jump back into a normal game-week routine on Sunday.