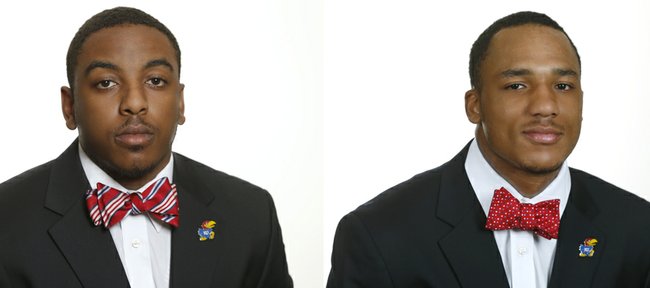 The developing relationship between junior quarterback Michael Cummings and junior wide receiver Nigel King is one of the most intriguing aspects of the slowly improving Kansas University offense.
Cummings, a fourth-year junior who made his second start of the season — and the seventh of his KU career — in Saturday's 34-21 loss at Texas Tech, finished 20-of-32 passing for 235 yards and two touchdowns. Only two of those 20 completions landed in the hands of King, who finished with 51 receiving yards, including a long grab of 35 yards. But it doesn't take a genius to see that, in their short time working together, Cummings has found something he likes in the Maryland transfer who joined the Jayhawks (2-5 overall, 0-4 Big 12) late last summer.
"He's one of those guys that you can trust with the ball in the air," Cummings said of King, who seems to be emerging as a favorite deep threat. "Either he's going to come down with it, or nobody's going to come down with it."
Although the two only connected on one deep shot against the Red Raiders, Cummings continually tried to push the ball down the field to King, sometimes even throwing into double coverage in an attempt to give King a chance to make a play.
"We have a good connection," King said. "If we call a deep pass, I know there's a good chance it might be coming to me. I run every route to win, and we've built that relationship by making plays in practice every day."
King enters KU's second and final bye week of 2014 as the team's fourth-leading receiver — 215 yards on 14 catches — and his 15.4 yards-per-reception is tops on the team.
"We passed up a lot of opportunities to close the game," King said of the offense's output against Texas Tech. "Once we get over that stride, we'll be pretty good. But it's gotta come fast. The season's coming to an end. We gotta take our strides and keep on going, but make it quick."
Cummings said that business-like approach was the norm for the 6-foot-3, 210-pound King, who came to KU with 24 Div. I appearances, 575 yards and five career touchdowns already on his stat sheet.
"He has that type of mentality," Cummings said. "As a quarterback, it makes it easier to throw to him."
King has a plan for how he thinks KU's off week should go and said he looked forward to the team being able to regroup and catch its breath after being asked to change both starting quarterbacks and head coaches on the fly during the past few weeks.
"I definitely feel that it's good timing," King said. "We'll be able to work on small things like timing with the quarterback and things like that."
It sounds an awful lot like the team's newest receiver and new head coach are on the same page.
"(The bye) allows us to do a lot of things that I think are important for this team," interim head coach Clint Bowen said. "We need to focus on improvement in all areas — offense, defense, special teams, everything. It will be a good fundamental improvement week."