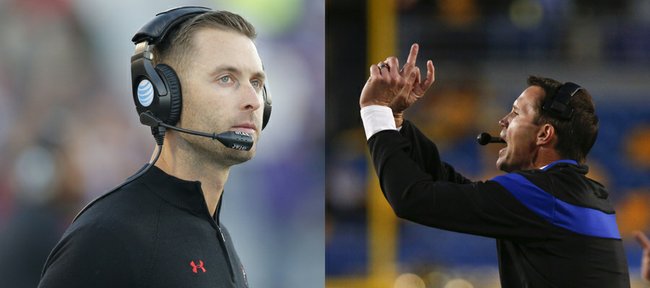 Texas Tech football coach Kliff Kingsbury knows a thing or two about the position Kansas University coach Clint Bowen is in today.
Hired two years ago by his alma mater as the head football coach, Kingsbury viewed his return to Tech as the chance of a lifetime and, on the day of his hiring, said "... I couldn't be happier, beyond ecstatic to be back. It feels like home."
Sound familiar? It should. Bowen, who has spent 16 of his 19 seasons in college coaching at Kansas, called the head coach's office at KU a destination job when he was introduced as the temporary replacement for former Kansas coach Charlie Weis three weeks ago. And in the days since, just about everything he has done to give KU football a lift has come from a place of passion.
Although the two situations differ in that Bowen, 42, is currently KU's interim coach and Kingsbury was hired to be the full-time guy, both have made no secret about the fact that leading the programs they once suited up for is an incredible honor. However, according to Kingsbury, a Texas Tech quarterback from 1998-2002, it's not all fun and games.
"The biggest thing is, you can't ever get away from it because all of your friends and family and everybody you know, most of 'em have some tie into that university," he said Monday morning. "Win, lose or draw, you end up always being brought back to the game. That's probably the toughest deal, just that your closest circle is usually tied to that university."
Behind an avalanche of support from Red Raiders supporters and a re-energized roster, Kingsbury, 35, guided Texas Tech to an 8-5 season and Holiday Bowl victory during his first year in charge. That run included a 7-0 stretch to open the 2013 season that elevated Texas Tech to a No. 10 ranking and had the fan base in Lubbock, Texas, thinking it had hit the jackpot. Five straight losses in Big 12 play followed the fast start before Kingsbury stopped the bleeding with a 14-point bowl victory over Arizona State.
It hasn't gone the same way for Bowen, who, through two weeks in charge of the Jayhawks, is 0-2 but has led Kansas to noticeable improvement in several areas, with Saturday's near-upset of No. 16 Oklahoma State providing the biggest sign of progress to date. Unlike Kingsbury, who had an entire offseason to prepare for the transition, Bowen has been forced to put his stamp on the program on the fly.
"From the day I took over, we put an emphasis on creating an identity of what Kansas football has to be," Bowen said. "... Playing extremely hard, physical and tough and smart. In this past game, I believe our kids played hard and played physical. But we didn't play smart, so there's two out of the three. And that cost us the game."
Although he's still trying to find his footing in Year Two, Kingsburgy, whose team sits with an identical record as the Jayhawks (2-4 overall, 0-3 Big 12) heading into Saturday's 2:30 p.m. showdown in Lubbock, has taken note of Bowen's impact on the KU program in a short time and admitted that nothing about it surprised him.
"You can tell he's got 'em playing hard, and that's not an easy position to come into, with those players and that program," Kingsbury said. "But they've stayed motivated. He's got 'em playing at a high level, and that's a credit to him and what he's about. I have a lot of respect for him. I've known about him a long time in this profession and heard nothing but great things."
Mundine on watch list KU tight end Jimmay Mundine, who recorded a career-best 88 yards on five receptions in last week's loss to Oklahoma State, was one of 33 players — two from the Big 12 — named to the John Mackey Award's midseason watch list.
Red Raiders favored Texas Tech, which has lost four straight after opening the season 2-0, entered the week as a 13.5-point favorite over Kansas, and the line since has gone up to 14.5.