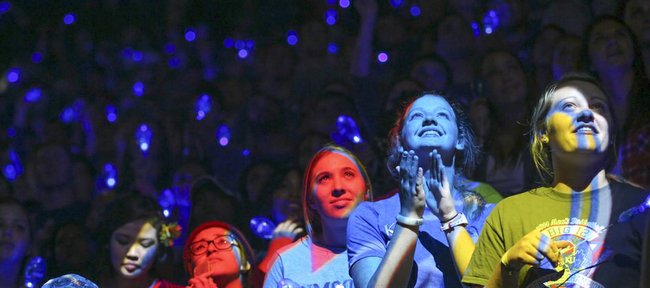 Document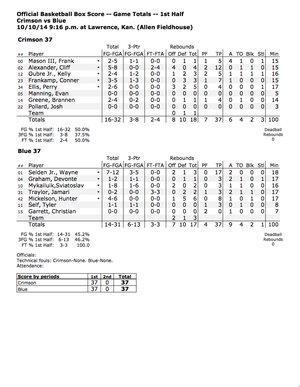 Podcast episode
Kansas University men's basketball coach Bill Self provides insight on where he got his Andrew Wiggins outfit, praises KU's freshmen for their play in the team's 37-all scrimmage and shares that sophomore big man Landen Lucas has a minor leg injury that kept him out. Plus, plenty more regarding the ...
Podcast episode
Kansas University sophomore guard Wayne Selden and freshman forward Cliff Alexander field questions from the media, following a 37-37 tie in the team's Late Night in the Phog scrimmage.
Just 14,000 fans attended the 2014 Late Night in the Phog on Friday night in Allen Fieldhouse.
"The attendance was what I expected, but it wasn't anything like it's always been. I'm so appreciative of the fans who did come out," KU coach Bill Self said.
He knew the fact the Royals were beginning a playoff series against Baltimore might eliminate the possibility of the usual packed house.
"I don't think the weather helped. Obviously last year's thing (students rushing the entrances) discouraged a lot of people after they couldn't get in and came long distances. I think we corrected that (people entered the building at 1 p.m.), but I don't think there was confidence we had. The accident on K-10, I heard, was awful. That's more important than anything going on here. I'm sure that took away quite a bit. The ones here I thought were enthusiastic and good."
Lucas out two weeks: KU sophomore Landen Lucas did not play. He is ticketed to miss the next two weeks because of a stress fracture in his lower leg.
"We think it's a situation where it is already healing," Self said. "It's something that hadn't been bothering him until late. After getting it checked yesterday, we found it's already beginning the healing phase.
"It's something you could play with if you had to. There's no reason to. He should be back in two weeks and have two to three weeks before the first game. If we were in season, we'd play him if we needed to."
Recruits cheered: A whopping 17 recruits received a loud ovation when they walked through the northwest tunnel to sit behind KU's bench at 7:57 p.m.
Seniors on hand making official visits were Rivals.com's No. 2-rated Jaylen Brown, 6-7, Wheeler High, Marietta, Georgia; No. 10 Stephen Zimmerman, 7-foot, Bishop Gorman High, Las Vegas; No. 14 Carlton Bragg, 6-9, Villa Angela St. Joseph High, Cleveland; No. 18 Brandon Ingram, 6-8, Kinston (North Carolina) High; and No. 19 Tyler Dorsey, 6-4, Maranatha High, Pasadena, California.
Juniors in the house: No 4 Jayson Tatum, 6-7 guard, St. Louis Chaminade; No. 6 Malik Monk, 6-3 guard, Bentonville (Arkansas) High; No. 13 De'Aaron Fox, 6-3 point guard, Cypress Lakes High, Katy, Texas; No. 28 Marques Bolden, 6-9 forward, DeSoto (Texas) High; No. 42 Schnider Herard, 6-10 center, Prestonwood Christian, Plano Texas; No. 66 Nick Rakocevic, 6-10 forward, St. Joseph's, Westchester, Illinois; and No. 93 Tyler Cook, 6-8 forward, St. Louis Chaminade.
And sophs on hand: No. 2 Troy Brown, 6-6 point guard, Las Vegas Centennial; No. 24 Mitchell Ballock, 6-4 combo guard, Eudora High, unranked Trae Young, 6-1 combo guard, Norman (Oklahoma) High; and unranked DaMonte Williams, 6-2 point guard, Peoria (Illinois) Manuel. Williams is the son of former Illinois guard Frank Williams, who played for Self at U of I. A member of the Class of 2018, Tim Finke, 6-3 from Champaign, Ill., also attended.
No trampling this year: KU officials opened the doors for Late Night at 1 p.m. — two hours ahead of schedule. The reason? Thousands of fans were standing in a long, winding line outside Allen Fieldhouse on a rainy day.
There was the usual mad dash for seats. The students sprinted to the south end-zone bleachers when they discovered the north end-zone seats were reserved for current KU student-athletes.
Nobody was trampled, though a few students could be seen scrambling for phones they dropped. The fieldhouse was about half full by 3 p.m.
A year ago, doors opened at 5:30 p.m. for a 6:30 p.m. show. Students raced to the front of the line and forced their way in, knocking many older fans out of the way.