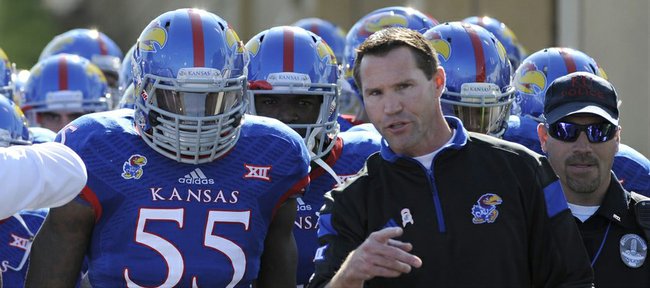 Photo Gallery
Kansas Football vs. Oklahoma State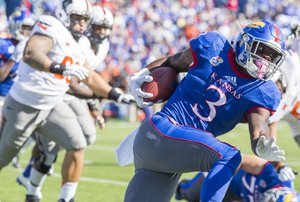 Images from Kansas' home football game against Oklahoma State, played Saturday, Oct. 11, 2014 at Memorial Stadium.
Podcast episode
Kansas University football interim head coach Clint Bowen talks about his team's improvement, and the breakdowns that allowed Oklahoma State to win, 27-20 — most notably, Tyreek Hill's 99-yard touchdown return on a kickoff after KU tied the game in the fourth quarter. Plus, plenty more from Bowen on the ...
OKLAHOMA STATE 27, KANSAS 20
Two games, both losses, don't supply enough evidence for Kansas University athletic director Sheahon Zenger to call off the coaching search and remove the interim tag from Clint Bowen.
Yet, anybody who hasn't seen a serious change in the way the team plays either isn't watching, doesn't want to see it, is blinded by Bowen's lack of celebrity, or all of the above.
The passion the intense defensive coordinator has instilled in his team in just two weeks is nothing short of impressive.
Tied with the nation's 16th-ranked college football team midway through the fourth quarter, Kansas lost to Oklahoma State, 27-20, Saturday in Memorial Stadium, but in so many ways, the gains made by the program overshadowed the loss.
The more athletes put into something, the more it stings when the effort doesn't result in a victory.
"They're hurting right now," Bowen said in the post-game press conference. 
Senior defensive tackle Keon Stowers took the hurt he felt and saw in the locker room as a positive sign.
"We had guys with tears rolling down their faces after the game because we have 85 guys working their butts off in practice to go for one common goal, to win, win, win," Stowers said. "It showed out there. We were scratching and fighting to the last second and we came up short, but we can build on that."
Two weeks into Bowen adding interim head coach to his D.C. responsibilities, his defense hasn't allowed a second-half point.
Second halves exhaust players, but not as much as Bowen's practices, which feature players running from spot to spot, staring into the faces of other first-stringers and hitting each other hard.
"Practice has been physical and it shows on the field," Stowers said. "What (former All-American quarterback) David Jaynes told the team when he came in to talk to us, he said, 'You have to practice how you're going to play and if you don't, it's going to correlate to the field,' is true. I feel like the NFL-style practices we had with coach (Charlie) Weis, we didn't really hit, ones didn't go against ones. Now, coach Bowen, he's turning it up."
Bowen's intensity rubs off on the players, Stowers said.
"If he sees anybody jogging or doing anything besides sprinting, oh, you're getting chewed out," Stowers said. "You're getting chewed out. It's just because he cares. You could see it in his eyes when he was talking to us after the game. He was teary-eyed. He cares about us. He cares about the university. He cares about the well-being of the players and that's what we needed this whole time and you can see that it's showing on the field."
Senior outside linebacker/defensive end Michael Reynolds had the wind knocked out of him on a play in which he forced a fumble. Not long after an extended stay on his back, he was back chasing the quarterback, celebrating the big plays, smacking himself on the helmet for the near misses.
"We love coach Bowen," Reynolds said. "He brings so much enthusiasm and passion to the game and to us all week, every day, meetings, practice, everything. We love it, and it really fires us up and makes us want to play even harder for him. He makes sure we're running everywhere and getting us tired to implement how we have to finish in the fourth quarter."
Bowen made two major mid-game personnel changes on offense during his debut loss at West Virginia, replacing Montell Cozart with Michael Cummings at quarterback, Keyon Haughton with Joe Gibson at center.
Both moves, especially at QB, have had a Lazarus-like impact on the offense, but just as important as that was the urgency with which they were made. Football is the most intense of all team sports and it presents constant tests of an athlete's decision-making abilities, toughness and confidence. Kansas showed progress in all those areas Saturday.
"On the sideline, I don't think there was a single guy who didn't think we would win the game," said Ben Heeney, who fired up teammates at halftime with a take-charge talk.
The interim head coach expressed his confidence in the team.
"I'm not so sure our team has to take a back seat to anybody," Bowen said. "We show up any given day and compete."
One-fourth of the way through his eight-game job interview, Bowen hasn't done anything but help himself, but six very difficult challenges remain, beginning with a trip to Lubbock for a Saturday game against Texas Tech.