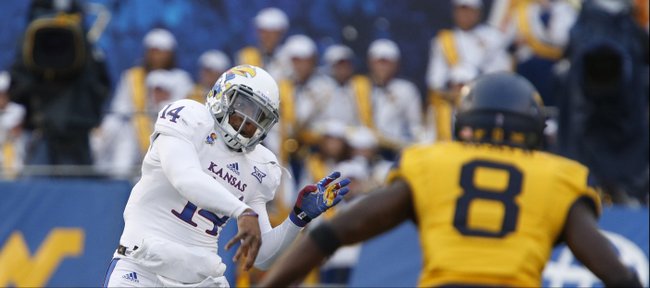 Photo Gallery
Kansas football v. West Virginia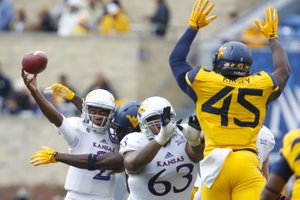 Images from Saturday's game between the Jayhawks and Mountaineers at Milan Puskar Stadium in Morgantown, West Virginia
Podcast episode
Clint Bowen discusses Jayhawks' heart, toughness after 33-14 loss to West Virginia.
KEEGAN RATINGS
WEST VIRGINIA 33, KANSAS 14
Morgantown, W.Va. — Starting quarterback Montell Cozart played the first half and second-string QB Michael Cummings played the second in Kansas University's 33-14 loss at West Virginia Saturday. After the game, interim head coach Clint Bowen said no decision had been made about the future of the position.
"We'll reevaluate that on Sunday," Bowen said. "We'll get with the offensive staff, we'll get with everyone, and we'll continue to try to be as creative and innovative as we can with our offense."
Asked how he thought Cozart handled being sent to the bench, Bowen was boastful.
"Montell's a tremendous young man," he said. "He's all about what's best for this team and what gives us the best chance to win and he took it."
Sophomore T.J. Millweard also played one possession in the loss, completing one pass for four yards on KU's final series.
Bowen's memorable day
It was a day he had waited nearly his entire life for, and his players paid him the ultimate compliment when it was over.
Sure, KU lost at West Virginia in Bowen's first game as the program's head coach, but he did not trip on the way out of the tunnel, his voice did not crack during the pregame, postgame or halftime speeches and he did not show any signs that the moment was too big for him.
"I felt like he was pretty cool," senior cornerback JaCorey Shepherd said. "He handled it well."
Bowen, who handled head coaching and defensive coordinator duties for the first time, described his behavior during the game as "business as usual." But he did admit that the emotions of leading his alma mater onto the field and being the guy with the head coach's headset was a rush and won't soon be forgotten.
"It's a great feeling," he said. 'I'm very proud to be a very part of this team, this program and this university. To be in that role truly is an unbelievable honor. I appreciate, with every ounce of my body, what it means."
Senior receiver Nick Harwell, who added a dose of good news to Bowen's debut with a 76-yard punt return late in the game, said the whole team could feel how special Saturday was for their new coach.
"He was real emotional," Harwell said with a heavy sigh. "It's always been his dream. I'm really happy for him. After he got the emotions out of the way he was really confident, very positive inspirational, positive about the game."
Maloney memorial
Saturday marked a sad day for the KU football family and the Jayhawks recognized it by wearing a black sticker on the backs of their helmets.
One year ago Saturday, former KU commitment and Shawnee Mission West standout Andre Maloney passed away after collapsing on the sideline of his high school game. Maloney has maintained a presence with the program in several ways since his death. Freshman Joe Dineen wears No. 29 in his honor. And Maloney was celebrated on signing day back in February and also included in this year's media guide. Saturday, the patches worn by the Jayhawks had the initials "AM" written in white to honor his memory.
"He's always gonna be a part of the Jayhawk family," Bowen said of Maloney.
No Charlie Jr.
Kansas officials confirmed that Charlie Weis Jr., the son of former KU coach Charlie Weis, was no longer in his role as student manager and did not attend Saturday's game.
There was talk about Weis Jr., staying with the team in a slightly different role under Bowen, but he ultimately decided to leave town with his father, who left Lawrence on Friday.
White a monster
West Virginia receiver Kevin White was a big reason for KU's struggles in the first half. He finished the game with 132 yards and a touchdown on six receptions, with nearly all of that coming in the first quarter.
"He's good. He's real good," said senior cornerback JaCorey Shepherd.
Added Bowen: "Kevin White's a tremendous player. I can't imagine there's gonna be a better wide receiver in the conference. He can run, he's got a big body, he makes the contested catches. He's really a great player."
This and that...
Junior running back De'Andre Mann left the game with an injury and did not return. Bowen said after the loss that he did not know Mann's status and would get more information from trainers today....
The Jayhawks won Saturday's opening coin toss and chose to defer its choice to the second half. West Virginia elected to receive the first-half kickoff.... Lawrence native Preston Randall, a 6-foot-1, 195-pound running back, made his debut with the Jayhawks..... Temperature at kickoff was around 50 degrees, under partly cloudy skies with winds of 10 mph out of the west.