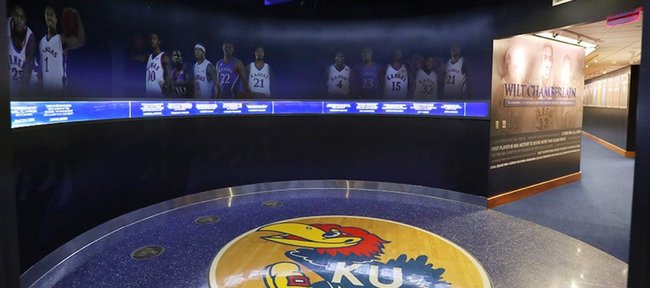 Kansas University's men's basketball locker room and hallway leading to the locker room in the northwest corner of Allen Fieldhouse have undergone a facelift heading into the 2014-15 season.
Included in the aesthetic improvements to the locker room, player lounge and the hallway that were completed in October 2009, is a photo tribute to Wilt Chamberlain, photos and quotes from KU's NBA players in the Bill Self era, framed magazine covers of Jayhawks as well as light boxes at each player's locker replacing the standard name plates.
"They took the space we have and the selling points we have as a basketball program and utilized it with a modern yet traditional feel," 12th-year coach Self said of Dimensional Innovations, a company in Overland Park. "I believe it really captures who we are.
"Our players are excited about it," Self added. "It gives our locker room area a totally different feel and certainly is impressive to anyone that is able to step inside the halls and take a tour of it."
Ground has been broken on the 32,000-square foot DeBruce Center, which will house James Naismith's original rules of basketball. Also, McCarthy Hall, an apartment complex for the players, will soon be under construction just south and east of Allen Fieldhouse. Included at the complex will be a theater and basketball court.
We have so many things going on with our basketball program right now," Self said. "You have Late Night (in the Phog, Oct. 10), the 60th event (Oct. 27 with Self, Larry Brown, Ted Owens, Roy Williams), the DeBruce Center, the McCarthy Hall but something that has gone unnoticed is that we have totally renovated the interior of our locker room facility."
See pictures of the locker room and hallway here.
It starts today: Today is men's basketball media day in Allen Fieldhouse. The event is closed to the public. It precedes Friday's official start of the season. The Jayhawks have been able to practice two hours a week since the start of school in accordance with NCAA rules.
You can bet "small ball" will likely be discussed at Self's news conference today. He has said a few times this offseason, most recently on Andy Katz's podcast, that he may play small a lot in 14-15.
"We've got three little guards (Conner Frankamp, Devonté Graham, Frank Mason). One of them probably needs to play, but we could play two of the three the majority of the game, too," Self said. "Devonté is probably the truest point. Frank is the best scorer. Conner is obviously the best shooter. They all kind of bring something different to the table, but from what we've seen so far I like playing small. I like playing two of the three. I know we won't do that all the time. I think having two primary handlers on the court the majority of the time will help our team. Last year we played basically with a couple of big wings and a point. I thought our ballhandling and passing was as poor as it's been and our playmaking ability (too)."
Recruiting: There is a chance the No. 1 recruit in the Class of 2016, 7-foot Thon Maker of Athletes Institute in Ontario, Canada, could reclassify to the class of 2015, his guardian Ed Smith, tells Zagsblog.com. Smith said KU, Duke, Kentucky and Indiana are involved. ... Tony Bradley, a 6-8 junior forward from Bartow (Florida) High, has received a scholarship offer from KU, Zagsblog reports. He's ranked No. 43 in the Class of 2016 by Rivals.com. ... Jayhawkslant.com reports KU has offered V.J. King, a 6-7 junior forward from Paul VI in Fairfax, Virginia, who is ranked No. 19 in the Class of 2016.
No. 3: ESPN's Dick Vitale ranks Kentucky No. 1 and KU No. 3 in his preseason top 40 poll. Duke is 2, Texas No. 7, Wichita State 12, Iowa State 13, Oklahoma 19 and Kansas State 28. The poll is available at http://ljw.bz/1rN7wxe