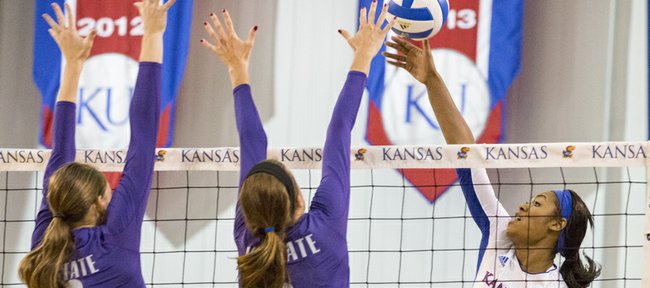 Kansas University's volleyball team has opened the 2014 Big 12 season with a pair of similar, gut-wrenching performances — a five-set loss Saturday at Oklahoma followed by Wednesday's 19-25, 25-23, 25-14, 22-25, 8-15 setback to Kansas State in Horejsi Center.
"They are very disappointed. That's not the way you script it to start your conference play," coach Ray Bechard said after his Jayhawks fell to 12-4 overall heading into Sunday's 1 p.m., home match against powerful, No. 2-ranked Texas.
"Now we've got to wipe that slate clean. We're going to be in that opportunity again and we have to figure out a different result. I don't think anybody's happy with the conference start. Obviously we played two very good teams — one is 14-2 and the other 11-4. We have to each and every day find a little bit more competitive confidence. That's what we talked about in the locker room for sure," Bechard added.
KSU, which stretched a 10-8 lead in the fifth set to 15-8, improved to 14-2, 1-1; OU, which outscored KU, 15-9 in the fifth set Saturday, is 11-4, 2-0.
"Not very good, substandard," Bechard said of KU's play in the fifth set the last two matches. KU also lost a five-set match to Lipscomb this season. "We dug a hole in both. We got back to 10-8 tonight. There was a key rally there. When that key rally doesn't work out you have to come back, try to figure out a way, to extend that a little bit longer."
Chelsea Albers had 17 kills, Sara McClinton and Kelsie Payne 12 and Tiana Dockery 10 (with 16 digs) for KU. Cassie Wait had 18 digs.
"We were disappointed, a little upset, but it's more light a fire under your butt a little bit," Dockery said of the players' mood in the locker room. "I think this has shown us we need to get up some, work harder, fight harder, fight longer, work harder, longer, everything like that so this doesn't happen again."
Next up is undefeated Texas, which improved to 10-0 overall and 2-0 in the league by virtue of a home sweep of Iowa State on Wednesday.
"We have some time to get everything together and still compete at a high level and win some games here," Dockery said.