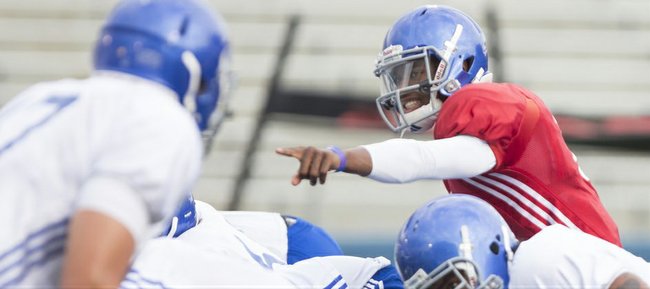 Change of any kind can create some uneasy days and be pretty taxing on the mind.
But, so far, the transition from former Kansas University football coach Charlie Weis to interim head coach Clint Bowen seems to have done wonders for the spirits of the KU football players.
Nowhere does that seem more true than at the team's most important position, where sophomore quarterback Montell Cozart moves into his fifth start of the season with a newfound confidence in his game.
It's not because of a new game plan, new throwing motion or easy opponent on the horizon, but rather because of a conversation he had with Bowen prior to Tuesday's practice.
"I came in a little bit early before we started meetings and he told me I was still the guy, they believe in me, everyone's still rallying around me," Cozart said. "I've never heard anything like that from the head coach. I heard it a little bit in high school, but, in the past, I haven't heard that and it felt really good hearing that from the head coach."
Bowen has made no secret about the importance of Cozart's continued development and improvement. If the Kansas offense can't get going, winning any of the remaining eight games is going to be difficult. Bowen knows that. Offensive coordinator John Reagan knows that. Cozart knows it, too. But he says his confidence is in good shape entering Saturday's 3 p.m. kickoff at West Virginia.
"It's still up there," Cozart said. "You can't play down or play timid, so I feel like I've always gotta remain confident. I'm 1-0 against West Virginia and I'm just trying to ride off of that. The season isn't gonna stop because we had a coaching change. West Virginia's definitely not worrying about a coaching change. They're trying to beat us."
Bowen, Reagan and quarterbacks coach Ron Powlus all believe Cozart has what it takes to lead the KU offense to better days. It won't be easy, though, and it won't happen overnight.
"He's a mature kid who I think is learning to have thick skin and a short memory," Powlus said. "I won't speak for him, but I'll speak from experience. He's a young quarterback who's in his fifth game in a new offense, and some things are hard. He's finding those things out, but he's a hard worker and he'll continue to work to get better."
Line up, coach
KU captain Ben Heeney said Wednesday that it had become a normal thing to see Bowen jump into drills and conditioning tests at practice. And it started from Day One.
"His first practice as our head coach, at the end of practice, we had to run a couple 80-yard stride-outs and he ran every one with us," Heeney said. "It's just cool to have a guy like that out there with us. He's been through what we've been through. He's been out here on this field and it's just really cool to have a coach who's been through what we're going through."
A fresh start
Several Jayhawks on Wednesday said the week so far had seemed like the start of something instead of Week Five.
"It does feel like it's a new beginning, even though, obviously, it's not," senior cornerback JaCorey Shepherd said. "Young, old, I think everybody feels that way from the top down."
Heeney said the changes, big and small, that Bowen has implemented thus far have been well received.
"We're all excited around here because everything's getting changed up. …It's giving us a chance to focus more on one thing at a time and, at the end, when we go into team, we can kind of tie it all together."