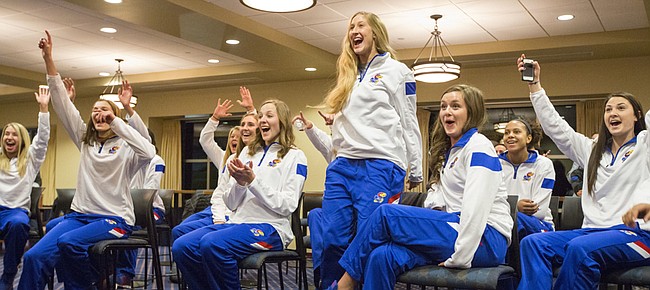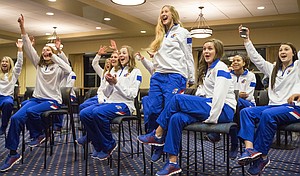 Think Kansas University volleyball coach Ray Bechard is miffed that, for the third straight year, his Jayhawks earned the right to host the first two rounds of the NCAA Tournament, but for the first time in that span they won't actually play a game in Lawrence?
Think again.
The Jayhawks learned Sunday night that they had earned the tournament's No. 16 national seed and will host games Friday and Saturday. But their campus home, Horejsi Center, is too small to host NCAA Tournament games, and their erstwhile tourney home-away-from-home, Allen Fieldhouse, will be otherwise occupied by a men's basketball game Friday night.
So KU will open the NCAAs against Arkansas-Little Rock at 6:30 p.m. Friday at … the Kansas Expocentre in Topeka.
"Our kids have played well on the road," Bechard said Sunday night. "We get to be the home team and play on the road. Maybe it's the best of both worlds for us."
KU will play host to Florida in men's basketball at 8 p.m. Friday, necessitating the move.
"It's nothing we had any control over," Bechard said. "Administratively, they did everything they could, but we really didn't have any choice. But Topeka will still allow a ton of Jayhawk fans to be in attendance. It'll be easier for the kids, and we don't have to go into any seeded team and play on the road, even if it's not in Horejsi or Allen Fieldhouse. It's still a great advantage for us."
Creighton (25-8) and Oregon State (19-12) will meet in the other first-round game at 4 p.m. Friday, followed by KU (22-8) and UALR (29-4) at 6:30 p.m. Friday's winners will meet at 6:30 p.m. Saturday at the Expocentre for a trip to the Iowa State regional Dec. 12-13 in Ames, Iowa.
Bechard confessed a few jitters before Sunday's Selection Show.
"There was some suspense," he said, "not suspense whether we'd get in or not, but I thought we were a bubble team (to host). You never know how that's going to go. It's exciting to be seeded."
When Bechard made his first inquiries into KU's first-round foe, a bit of that excitement dissipated.
"It's interesting because I heard some talk from coaches going around that this team could be trouble," he said. "Last year, American surprised some people when they got to the Sweet 16. Some people (this year) were mentioning Arkansas-Little Rock and their foreign players. I looked it up, and they won 25 in a row. … If you win 25 in a row, you're doing something right.
"But it'll be a great test. With Creighton and Oregon State there, there should be a lot of good volleyball in Topeka."