Saturday, November 29, 2014
Photo Gallery
Kansas football vs. Kansas State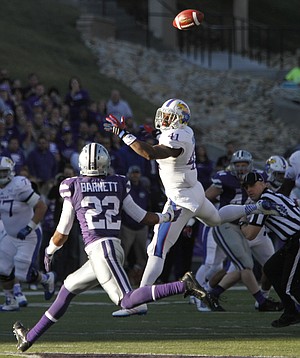 Images from Saturday's game between the Jayhawks and the Wildcats in Manhattan.
Podcast episode
Clint Bowen breaks down KU's season-ending loss to K-State and the future of Kansas football
Podcast episode
KU athletic director Sheahon Zenger discusses Clint Bowen's 9 weeks as interim head coach of KU football.
KANSAS STATE 51, KANSAS 13
Manhattan — From 1993-96, Kevin Lockett tortured Big Eight secondaries to the tune of a school-record 217 receptions for the Kansas State Wildcats.
On Saturday, during K-State's 51-13 drubbing of visiting Kansas University, Lockett's son, Tyler, bumped his father into second place on K-State's all-time receptions list.
With a 17-yard grab on third-and-10 late in the second quarter, Tyler Lockett hauled in reception No. 218. After a brief stoppage in play and a few hugs and handshakes from his teammates, the younger Lockett went back to doing what he does best and, four plays later, picked up his second touchdown catch of Saturday's run-away victory.
The 5-foot-11, 175-pound senior finished the day with nine receptions for 119 yards and two TDs, giving him 222 career receptions with two games to play — next Saturday at Baylor and K-State's bowl game, which is yet to be determined.
Those games and future catches can wait, though. On Saturday, it was all about the special father-son moment and a whole bunch of catches by four Lockett hands that have made K-State fans cheer for the past two decades.
"I actually saw him on the big Jumbotron celebrating one of the touchdowns," said Tyler of his father, who was in attendance on Saturday. "Obviously, he was happy about it."
So, too, were Lockett's teammates.
"It was awesome," senior quarterback Jake Waters said. "Tyler had a great game, especially with breaking the record in front of all our fans cheering us on. It was awesome throwing the ball to him."
As humble as always, Lockett took very little credit for all of those catches after the game.
"It just says a lot," he said. "I have a great quarterback. Coach (Andre) Coleman puts me in great situations. My dad and uncle (Aaron Lockett) taught me a lot. I just try to go out there and just perform to the best of my abilities."
---
More news and notes from Kansas vs. Kansas State
---