Saturday, November 29, 2014
Photo Gallery
Kansas football vs. Kansas State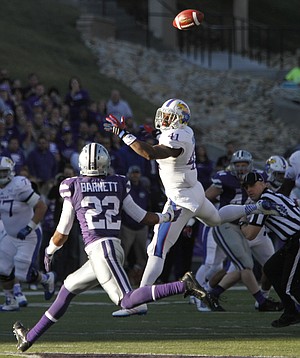 Images from Saturday's game between the Jayhawks and the Wildcats in Manhattan.
Podcast episode
Clint Bowen breaks down KU's season-ending loss to K-State and the future of Kansas football
Podcast episode
KU athletic director Sheahon Zenger discusses Clint Bowen's 9 weeks as interim head coach of KU football.
KANSAS STATE 51, KANSAS 13
Manhattan — Trent Smiley probably could have left the football with someone else and it would've been fine.
After toiling four years in Kansas University's football program as a tight end known for his blocking, the senior from Frisco, Texas wasn't going to take that chance.
So when he left the visiting locker room at Bill Snyder Family Stadium Saturday night, Smiley kept the pigskin tucked tightly to his ribs. The Jayhawks had just lost again, as they had so many times before in his career, but at least he had this football — a symbol of a play he'll never forget.
Years from now, Smiley will forget the 51-13 final score of his college finale. Most likely, he won't be able to rattle off his career numbers (five catches, 58 yards). But you better believe he will remember the first touchdown catch of his career, in the Sunflower Showdown no less.
"I would've taken a win over the touchdown catch," Smiley said afterward, "but I'm someone who doesn't get a whole lot of opportunities, and I tell the young guys all the time, it's just about taking advantage of your opportunities."
The 6-foot-4, 240-pound tight end practiced what he preached against K-State. Fellow senior Jimmay Mundine got hurt, which meant more looks for Smiley and red-shirt freshman tight end Ben Johnson.
Late in the third quarter, with Kansas already trailing by 32 points, Smiley broke open in the back of the end zone and junior quarterback Michael Cummings flung it his way.
Smiley, who entered the game with one reception this season and only four in his career, should've known his first TD in a KU uniform wouldn't come easily. He hauled it in just in time to get a foot down in bounds.
"I had to be close. I kind of paused for a second," Smiley said. "I thought they were gonna review it. It made me a little nervous, but thankfully it was good."
The moment felt awesome enough that he didn't mind critiquing Cummings' throw later: "Maybe it could've been a little shorter so you don't have the potential foot issue," he joked.
Actually, Smiley thanked the QB for trusting him to go and make the play when KU's star tight end couldn't.
When KU's offense returned to the sideline, Smiley's buddy, senior offensive lineman Pat Lewandowski, tracked down the football and presented it to him. The tight end left it with a team manager for safe keeping until after the game.
The symbolic trophy meant so much to him, because it took 43 games in crimson and blue to score those six points, and game No. 44 isn't coming.
"I knew that blocking would always be a strength of mine, and I was proud of that and embraced that," Smiley said. "But, no, I didn't think it would take until the last game of my career to get one. But, hey, that's when the opportunity presented itself."
He'll look back fondly on that moment, though it won't define his career.
"I think the things I'll take away more than that will be the bonds that I've made," he said, "the times with my family and the joy that we've had through the years."
The football will represent all of that, too, so he already knows what's next for his newfound memorabilia, which he eventually will momentarily relinquish.
"This one's definitely being mounted, framed," he said. "The whole nine yards."
---
More news and notes from Kansas vs. Kansas State
---