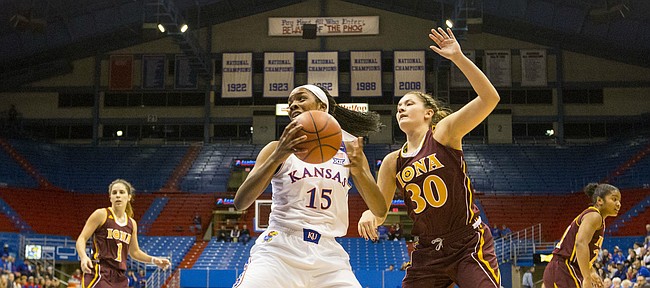 Sometimes basketball really is a simple game — shoot, pass, score, rebound, win.
Wednesday night was one of those times for the Kansas University women's basketball team, which rocked Iona, 90-49, at Allen Fieldhouse.
The scoreboard was not the only place the Jayhawks (5-1) crushed the Gaels on Wednesday.
Kansas out-rebounded Iona 46-28, scored 23 points off IU turnovers, compared to just nine for the Gaels, picked up 20 second-chance points compared to just six for the Gaels and also saw its bench outscore Iona 49-13.
Kansas finished with a 30-16 edge in points in the paint and a 23-4 advantage in the assist department.
Even with all of those lopsided stats, the thing KU coach Bonnie Henrickson was most pleased about was her team's strong showing in the second half. After holding a 40-12 lead at the break, KU added 50 points
"We've had big leads and lost them in the second half already this year," Henrickson said. "And it was good to see us continue to play well in the second half tonight."
Asia Boyd paced KU with 19 points and Terriell Bradley and Chelsea Gardner added 16 apiece. All but one of Bradley's points came from three-point range, where she knocked in 5-of-5 from downtown, good for the second best single-game mark in KU history.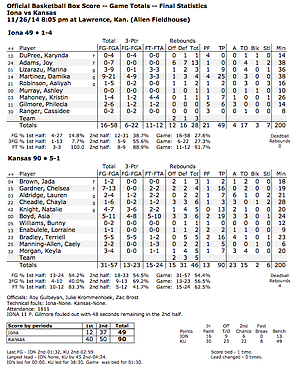 "She was more aggressive and more confident," Henrickson said of the freshman guard. "And we want to talk her out of just being a point guard."
As a team, Kansas knocked in 13-of-23 three-pointers, good for 57 percent.
"Great footwork," Henrickson said. "When we shoot the ball well, our footwork's right. When it's not, we don't."
What may have been the craziest fact from KU's fifth victory of the season was that the Gaels (1-4) actually did a decent job defending Gardner in the early going. Their 3-2 sagging zone packed the paint and limited the KU senior's room to operate and they also often put a defender in front of her and a defender behind her to keep her from getting easy looks in the paint. That may have worked, too, had it not been for the hot shooting of the Jayhawks in the first half. Lauren Aldridge, Jada Brown, Bradley and Keyla Morgan all shot better than 50 percent in the first half and the Jayhawks as a whole shot 54 percent.
"That's important for us because we have a really good big, one of the best bigs in the country," Henrickson said. "And then (teams) have to pick and choose what they defend."
Added Bradley: "When we have that inside presence, it just makes it that much easier."
While KU's offense was rolling, the Jayhawks' defense may have been even more impressive, as the Gaels struggled to get anything going offensively and finished the half shooting just 15 percent, including a 1-of-13 mark from three-point range.
"They shot 15 percent and they only had four offensive rebounds," Henrickson said.
The Gaels did not crack double digits on the scoreboard until the final seconds of the first half, when Damika Martinez, who scored a game-high 25 points on 9-of-21 shooting, threw in an off-balanced three-pointer with two seconds remaining to cut KU's halftime lead to 40-12.
Kansas was not quite as sharp to open the second half, but it did not take them long to get rolling. Bradley (16 points, 5 rebounds, 4 assists) and Morgan (7, 5, 4) continued to push the tempo and got easy buckets in transition to build their lead. The Jayhawks played 11 different players in this one, with 10 of them putting points on the board.

Up next, Kansas will play Notre Dame at noon Sunday in Uncasville, Connecticut, before returning home Dec. 4 to face Incarnate Word at 7 p.m.