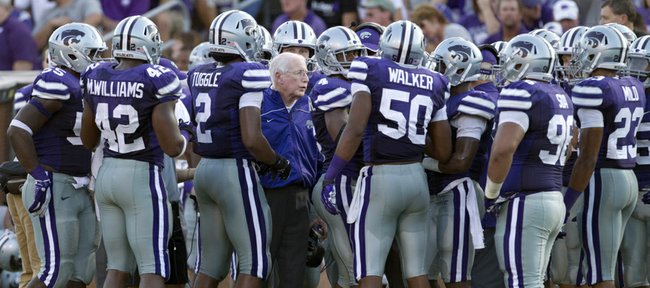 A little less than five years ago, in the weeks after Mark Mangino's departure from the Kansas University football program, then-KU-defensive-coordinator Clint Bowen considered working for Kansas State coach Bill Snyder.
In December of 2009, sources told the Journal-World that Bowen had talked with Snyder about an opening on the K-State staff. And Monday morning, on the Big 12 coaches teleconference, Snyder confirmed that he once talked with Bowen about an opening.
Things never materialized further, which Snyder said likely was "because he's a KU guy," and Bowen, after 12 years as an assistant coach at Kansas, went to Western Kentucky, where he spent the 2010 season as the WKU defensive coordinator before going to North Texas in 2011 and landing back at Kansas in 2012.
A lot has happened for both programs since Bowen tested the waters at K-State, but none of it figures to be more significant for KU's interim head coach than the opportunity to coach against Snyder this weekend in a place he played — and lost, 10-9 — as a KU senior and has coached numerous times during the past couple of decades.
Asked Monday morning about his memories of facing the Wildcats as a player, Bowen said the Sunflower Showdown games always were meaningful because he and his teammates knew the entire state was paying attention.
"I remember all my games playing in it," Bowen said. "They were all fun games to play in, fun games to be a part of. To the people of the state of Kansas, this is obviously a big game. And, through the years, there've been a lot of great match-ups and some stories and history behind it, from when both teams weren't very good to when both teams were really good."
With Saturday marking the final chance in his eight-game audition to make his case for the full-time coaching gig, Bowen knows what a good showing or even a victory over K-State would mean for his chances and to the KU players and fan base. But, as has been the case throughout the past couple of months, don't expect Bowen to put his future ahead of the here-and-now of trying to win Saturday's game. It's something Bowen knows will be tough because of the guy calling the shots on the opposite sideline.

"I have tremendous respect for what coach Snyder's done at Kansas State and their program," Bowen said.
Half an hour later, Snyder spoke of similar respect for Bowen.

"I've known Clint for some time," the K-State coach said. "He's a good, good young guy and has a great passion for the game. He's a young coach that I admire. I think he tries to do it the right way, and I always have a great appreciation for that."
As for Snyder's thoughts about Bowen's candidacy for the KU job: "You have to extract the Oklahoma ballgame, but aside from that, I think it's obvious to most everyone you see a great deal of improvement," Snyder said. "You see greater motivation for the players. I just think in all facets of the program, you see enthusiasm by the coaches and players alike. Along with that is always going to come improvement, and they certainly have made that."
KU and K-State will kickoff at 3 p.m. Saturday at Bill Snyder Family Stadium in Manhattan.