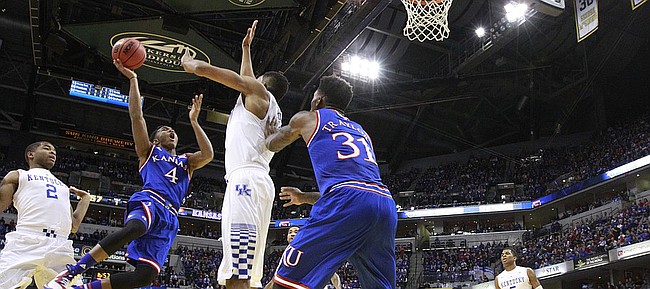 Kansas men's basketball coach Bill Self on Sunday said he hadn't decided on his lineup for Monday night's game against Rider.
Freshman point guard Devonté Graham, who suffered a shoulder sprain in Tuesday's 72-40 loss to Kentucky, practiced Sunday, thus should be available.
Freshman wing Kelly Oubre Jr. started the KU-Kentucky game and finished with six points and four rebounds in 13 minutes. He came off the bench in the two exhibitions and the opener versus UC Santa Barbara.
"He really didn't say much," Oubre said, asked what Self told him prior to the Kentucky game. "I just took it as motivation (that) I needed to do something right out there. At practice, we all worked hard (leading up to game). We did what we do. He started me against Kentucky. I don't have any reason for it, but we all work hard in practice."
Of Oubre's play, Self said: "I thought Kelly did some positive things, without question. Let's not get carried away. You're not going to take any positives from the (Kentucky) game from an individual standpoint. I don't think anybody stood out. You look at him and say, 'Wow, he really played well.' I don't think that was one of those games. What happens when you play as individuals and you play against some really, really, really good individuals that play as a unit, then you don't look very good individually. That's kind of what we did."
I thought Kelly did some good things. He put the ball down a couple times and got in there nicely. He made a nice three.
"One of the big keys to that game, and seems like a minor key, was how their three-man kept every ball alive on the glass," Self noted. "Every ball, (Alex) Poythress and (Trey) Lyles kept every ball alive on the glass. Our three-man did a really poor job of creating any type of block out or opportunities for us through them crashing or through us getting to the offensive glass."
Oubre realizes rebounding is vital.
"We have to get them at the three spot," Oubre said. "Kentucky's three-men were getting a lot of rebounds. They impacted the game by getting rebounds. Getting rebounds is very vital in the game. If you get a rebound you have a chance to get extra possessions the other team doesn't have and that's important."