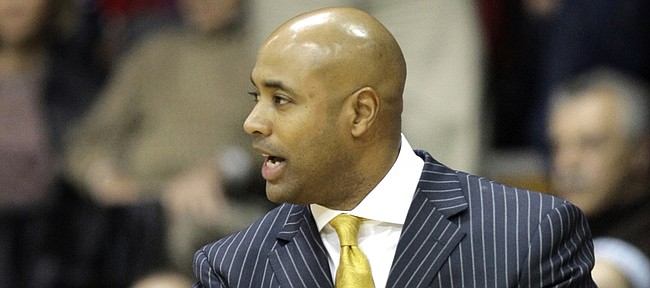 Rider University basketball coach Kevin Baggett, a standout guard at St. Joseph's in the late 1980s, took a recruiting trip to Kansas University.
"I was there actually when Troy Aikman was the quarterback, and Kansas was 0-9 or 0-10, and I was on my visit there. Kansas upset Oklahoma that year, who was undefeated. It was Halloween, and they tore the goalpost down," Baggett recalled on Friday after the Broncs' 78-74 home victory over Lehigh. His Rider squad takes a 2-1 record into today's 7 p.m. game against KU (1-1) in Allen Fieldhouse.
"It was unbelievable because I was in the booth watching it all. Danny Manning was my host," added Baggett, who was a blue-chip prospect during a senior year of high school in which he captained Burlington Township (New Jersey) to a 31-0 record and state title.
"It was a neat experience for me. I had a chance to watch those guys go on to win. They actually won the NIT and won the NCAA Tournament as well.
"Danny being there for those four years ... I missed out on it," he added with a smile. "It was a great experience. I'm just looking forward to getting our guys there and seeing all the history that's there at Kansas."
Baggett, by the way, obviously has a good memory.
The history books show that KU's football team indeed beat an undefeated, Aikman-led OU football squad, 28-11, as an early Halloween treat on Oct. 27, 1984, in Memorial Stadium. KU actually had a 2-5 record entering that game, a bit better than 0-9, but close enough.
"We don't just go on a trip. We'll go enjoy it and see things. This is an experience for these guys. I want them to enjoy it," Baggett said.
His Broncs are 1-0 at home and 1-1 on the road. They defeated Penn, 73-57, in Philadelphia and lost to Princeton, 64-58, in Princeton, New Jersey.
Teddy Okereafor, a 6-foot-4 junior point guard from London, helped make Friday's home opener in Lawrenceville, New Jersey, a happy one.
The former VCU player scored 29 points with six rebounds, three assists and three steals.
"It's an awesome night. I know he has it in him, so do our other guards and Matt (Lopez, 7-foot center, 7.3 ppg) as well," Baggett said after the game. "He (Okereafor, 15.7 ppg average) took charge when we needed him to take charge, certainly a calming effect for sure."
Sophomore guards Zedric Sadler and Jimmie Taylor average 12.7 and 10.7 ppg. Freshman forward Kahlil Thomas averages 6.7 ppg.
Tonight's game is part of the 2014 Orlando Classic, however it has no bearing on the bracketed portion of the event to take place Thursday, Friday and Sunday at HP Field House in Kissimmee, Florida.
Rider will play Michigan State at 5:30 p.m., Central Time, on Thanksgiving Day, while KU will tangle with Rhode Island at 1:30 p.m.
"We play Kansas and Michigan State. Me, personally, I grew up watching those teams on TV back home," Okereafor said. "It's almost a dream come true. It's a challenge. We have nothing to lose. We just have to come out and play."
If KU beats Rhode Island on Thursday, it would meet the winner of the Santa Clara-Tennessee game at 11 a.m. Friday. Teams on the other side of the bracket are Marquette, Georgia Tech, Michigan State and Rider.
"I think the Classic will be hard. There are good teams in the field, and we certainly need to get off to a good start in playing Rider," KU coach Bill Self said. "We'll look forward to going down to Orlando just like we did Atlantis (in Bahamas) last year. I'm hopeful that we leave Orlando a heck of a lot better than we left Atlantis, because we left out of Atlantis a bad team (beating Wake Forest and UTEP, losing to Villanova).
"We beat Duke. That's great. We were much worse a week later. We've got to just get better and just grind and build on it. I think we're going to be just fine."
Of the eight-team field Self said: "I love the field. The field is good. We get a chance to play Rider, and then obviously Rhode Island. They're good. They'll give us everything we want and more. Then Tennessee or Santa Clara. Then on the other side, you've got good teams, highlighted by Michigan State. But with Marquette and Georgia Tech, it'll be a very competitive field, a very good field."
About Rider
Rider was picked by league coaches to finish seventh of 11 teams in the Metro Atlantic Athletic Conference (MAAC). ... Rider averages 69.7 points per game and has a +4.7 scoring margin. The Broncs are shooting 48.4 percent from the field, make 8.0 three-pointers per contest and average 10.7 assists. ... KU is 2-0 vs. Rider. The Jayhawks won the first meeting, 110-72, on Dec. 12, 1987, and 103-51 on Dec. 15, 1990. Both contests were played in Allen Fieldhouse. ... KU is a combined 13-1 against MAAC teams: 3-1 vs. Iona, 2-0 vs. Canisius, Niagara, Rider and St. Peter's and 1-0 vs. Fairfield and Siena.