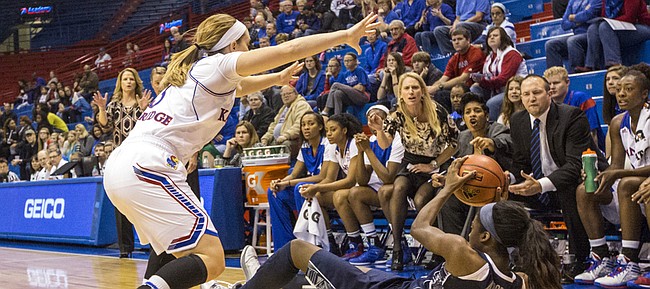 Document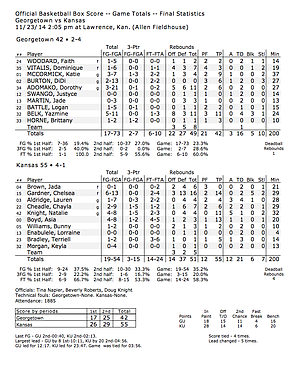 Headed into her team's third game in three days, Kansas University women's basketball coach Bonnie Henrickson figured Sunday's matchup with Georgetown at Allen Fieldhouse might not turn out too pretty.
She was right.
KU gave the ball away 21 times and hit just 19 of 54 shots. Still, the Jayhawks' tired legs had enough in them to win the final game of the Naismith Hall of Fame Women's Basketball Challenge, 55-42.
"It looked like we were playing sand basketball there for about the first 15, 16 minutes," Henrickson said after KU went 2-1 at the event. "Both (teams) were kind of stuck in mud, but we finally made a nice little run going into the locker room (at halftime)."
The Hoyas (2-4) led by as many as eight midway through the first half, as they kept KU's star senior, Chelsea Gardner, scoreless for more than 14 minutes. Once Gardner made a jumper to tie the game at 15, though, the Jayhawks located some of the bounce that had abandoned their steps.
Senior KU forward Bunny Williams brought down an offensive rebound in the final seconds of the first half, and Asia Boyd beat the buzzer for one of her team's three three-pointers to give KU a 26-17 halftime advantage.
Kansas senior guard Natalie Knight (11 points, five assists) said she and her teammates just needed something to get their momentum rolling.
"It was really about finding energy from the bench," Knight said, "and then being able to come together and be, like, 'Look, we need to get three stops in a row and put some points on the board.'"
While Kansas (4-1) hit just 35.2 percent of its field goals, connected on only three of 15 from downtown and went 14-for-24 at the foul line, Henrickson at least appreciated the team's defensive effort. The coach said the Jayhawks needed a grind-it-out game, in which nothing came easily for Gardner and neither team was going to break into the 60-point range.
"You can't get antsy or anxious or upset or frustrated," Henrickson said. "You've just gotta recognize it's one of those (days), and we've gotta win it on (the defensive) end of the floor."
To that end, Georgetown made just 17 of its 73 shots (23.3 percent), getting many extra looks due to its 22 offensive rebounds.
Defensively, the Hoyas aimed to limit Gardner's touches by attacking her with traps in the post.
"I saw they were bringing two or three people at me," Gardner said, "and I just had to relax and try to pass the ball back out and get my guards open shots."
Despite Georgetown's strategy, Gardner finished with 14 points and 16 rebounds. She also swatted away five shots on defense.
Knight (4-for-8) and Boyd (4-for-8, 13 points) were the only Jayhawks to make more than one shot and shoot at least 50 percent. But Henrickson, knowing no team is going to fire on all cylinders every game, found some satisfaction in KU's overall performance.
"We didn't keep our foot on the gas (on offense)," the coach said, "but defensively I thought we were solid."
Kansas will play host to Iona at 8 p.m. Wednesday.