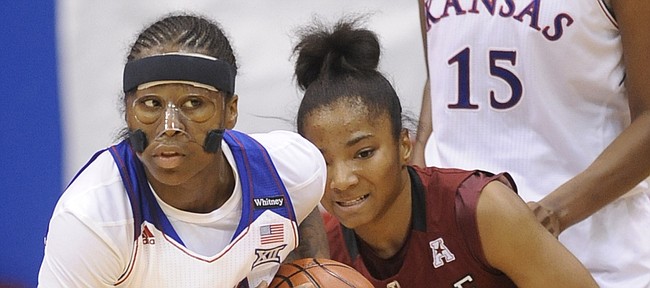 Document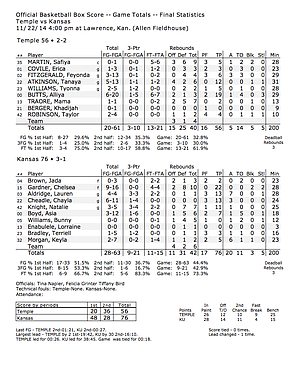 A narrow loss Friday to Alabama to open the Naismith Hall of Fame Challenge Tournament did not sit well with Kansas University's women's basketball team.
That was apparent almost from the opening tip in Saturday's matchup against Temple, as Kansas opened on a 15-2 run on the way to defeating the Owls, 76-56, in Allen Fieldhouse.
"That team today is who I think we are capable of being consistently, and that's who we are going to need to be consistently," Kansas coach Bonnie Henrickson said. "Much better. I'm proud of their resiliency and resolve to be able to kind of bounce back and have a little pop in their step today."
The Jayhawks took advantage of Temple's zone defense and scored 24 of their 48 first-half points from behind the arc. Senior Natalie Knight and freshman Lauren Aldridge combined to knock six of their seven shots from three-point range before the break.
"Yesterday we weren't hitting shots, and so the zone just kind of packed into the middle," Aldridge said. "Today we came out, and Natalie hit a couple of threes, I hit a couple of threes, I think Chayla (Cheadle) even hit one. So that brought the zone out a little bit, and so that allowed me to attack the middle."
When the Jayhawk guards weren't draining three-pointers, they were feeding All-Big 12 performer Chelsea Gardner in the post.
Gardner had a double-double with 22 points and 10 rebounds, with two blocks and two steals.
The Owls attempted to combat the lack of size with a four-guard lineup, but Gardner said it did not faze her.
The 6-foot 3-inch senior forward said that she tries to come up with the same mentality, regardless of how the opposing team tries to neutralize her in the post.
"Every game I just think the same, just being ready and coming in making a big impact for the team," Gardner said.
Gardner's 22 points led all scorers, and three other Jayhawks joined her in double figures. Aldridge and Cheadle scored 13 apiece, and Knight added 11.
Henrickson credited the Jayhawks' balance on offense to the point-guard play of Aldridge and sophomore Keyla Morgan. The point guards combined to dish 13 assists to just one turnover.
"The poise and composure it takes for a young kid to do that against speed, length and athleticism and some size," said Henrickson of Aldridge not turning the ball over in consecutive games. "She did a nice job of throwing it inside."
The Jayhawks (3-1) will play their third game in three days Sunday when they take on Georgetown. Tipoff is set for 2 p.m. in Allen Fieldhouse.