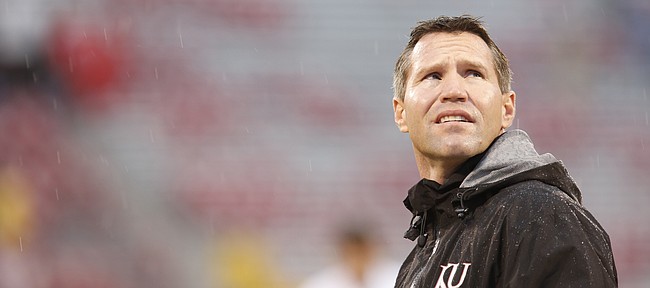 Photo Gallery
Kansas football v. Oklahoma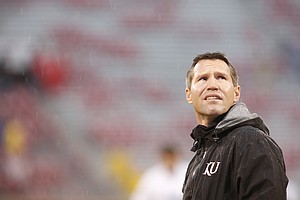 Images from Saturday's game between the Jayhawks and Sooners at Memorial Stadium in Norman.
Podcast episode
Interim KU football coach Clint Bowen sizes up a record-breaking Saturday by Oklahoma RB Samaje Perine, who torched the Kansas defense for an NCAA-record 427 yards rushing during a 44-7 victory by the Sooners.
OKLAHOMA 44, KANSAS 7
KEEGAN RATINGS
Norman, Oklahoma — What has to rank as one of the worst weeks in the history of Kansas University athletics included basketball coach Bill Self reaching for a glass of water and cracking that he had hoped it was filled with Vodka. It ended with interim head football coach wishing he could reach for amnesia dust to sprinkle on his players.
Oklahoma hammered Kansas 44-7 Saturday, three days after Kentucky towered over KU, 72-40, in Indianapolis.
Big men who run fast put the Jayhawks on the wrong end of records all week. None came up bigger than Samaje Perine, of course. The fleet, shifty 5-foot-11, 243-pound freshman from Pflugerville, Texas, knocked down every rushing record in his path, starting with the Oklahoma freshman record and finishing with the NCAA rushing record, reaching 427 yards when Fish Smithson dragged him to the ground on his final carry.
Self has built up so much good will with Kansas fans with 10 consecutive Big 12 titles, a national championship and another trip to the title game, the job is his until he wants to go elsewhere.
For Bowen, who has one game left as interim head coach, every good week, such as trouncing Iowa State by 20 points and nearly scoring a monumental upset against TCU, convinces everyone in his corner he's the man for the job. Every bad one is used by those who lust for a bigger name from a bigger-name program.
Even those against him would surrender the fight should KU pull off a rare upset against Bill Snyder's highly ranked Kansas State team Saturday in Manhattan. A blowout loss could sway athletic director Sheahon Zenger to listen more closely to those who can't stand the thought of the Jayhawks being coached by a Jayhawk, unless, of course, he's a basketball player.
OU's manhandling of KU started up front on both sides of the ball and on a day when the rain poured in diagonal sheets, shaped by a loud wind, the team that could run the ball and defend the run was going to win the game. Kansas, at a size and strength disadvantage, did neither.
"Obviously both sides of the ball, I don't want to say it was impossible to throw the ball, but it was hard," Oklahoma coach Bob Stoops said.
That wasn't the first thing Stoops said. As is often the case at coaches' press conferences, Stoops started by complimenting his opposite number.
"Starting off, I would still like to compliment Clint Bowen and his staff," said Stoops, whose brother Mark was advised by close friends to bypass the chance to go for the KU job the last time it opened. "Obviously, today was a tough day, but they have done an excellent job of bringing their attitude back and playing hard. Like I said, they just beat Iowa State two weeks ago and played a great game against TCU. I really think a lot of that is Clint and the way he has handled that team."
Stoops looks at the world through the eyes of a coach, not an emotional fan. That's why he has such a long memory, one that went all the way back to two weeks previous, to the Iowa State and TCU games he and his staff studied. Stoops knows how much Bowen already has changed the culture of a losing football program and he is genuinely impressed.