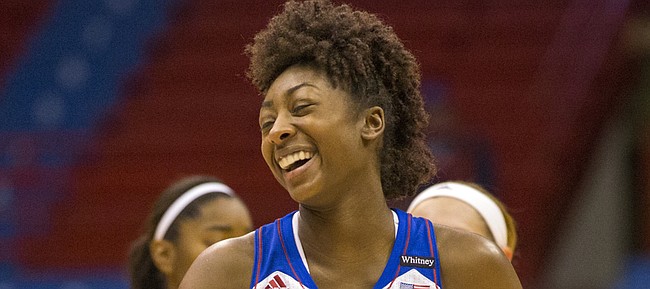 Kansas University's women's basketball team struggled with its three-point shooting in its season opener Sunday, but the Jayhawks were dialed in from long distance in their 69-44 win Tuesday over Texas Southern in Allen Fieldhouse.
The Jayhawks (2-0) nailed their first three three-point attempts after shooting 2-for-15 from the perimeter Sunday against South Dakota.
Kansas drained nine of 22 attempts from long range Tuesday.
"We go to Chelsea (Gardner) first, then we hit some threes because they kind of sag in," Kansas coach Bonnie Henrickson said. "Then all of a sudden there's opportunities to drive and kick."
Gardner scored the Jayhawks' first four points, but then Kansas got it going from the perimeter. Freshman Lauren Aldridge nailed her first career field goal, and senior Natalie Knight followed by knocking down back-to-back treys.
The Jayhawks' early lead allowed Henrickson to get her bench players quality minutes. Freshman Chayla Cheadle came off the bench to score a game-high 15 points and wanted to make sure that the Jayhawks' didn't let up after jumping to a 28-10 lead in the first 12 minutes.
"I just thought if I would bring a lot of energy and have confidence that my game would come to me, and that's exactly what happened," Cheadle said.
The game had extra meaning for the freshman guard from Columbia, Missouri. Her cousin, Toni Cheadle, plays for Texas Southern.
"Yeah, we've never met before, so hopefully I can catch her after this (postgame interview), but that's on my dad's side," Chayla Cheadle said. "I'm excited to meet her tonight."
Henrickson was pleased with the effort of Cheadle and the other young Jayhawk perimeter players, but she knew coming into Tuesday's matchup that Texas Southern's quickness would pose a big challenge, and it did. Kansas committed 22 turnovers.
"They're long and athletic, and we talked about that, but to neutralize that athleticism you've got to shorten the length of passes," Henrickson said. "We threw things across our body, through the middle of the floor, and they played that zone pretty wide, and that's when we started to turn it over."
Senior Asia Boyd and Gardner gave the Jayhawks another spark to begin the second half, and the Tigers never threatened after the break. Gardner only logged six minutes in the first half, but made up for lost time in the second, scoring 10 points after the break to end up with 14 on the night.
Terriell Bradley joined Gardner and Cheadle in double figures with 11 points to help Kansas freshmen account for 33 of the Jayhawks' 69 points.
"I thought they (freshmen) did a good job," Henrickson said. "I thought they were aggressive. I thought they attacked."
The Jayhawks will have a chance to catch their breath before playing three games in three days in the Naismith Hall of Fame Women's Basketball Challenge Friday-Sunday against Alabama, Temple and Georgetown in Allen Fieldhouse.