Photo Gallery
South Dakota at KU women's basketball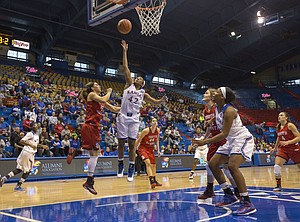 Images from Sunday's game between the Jayhawks and the Coyotes at Allen Fieldhouse.
Excuse Kansas University senior Chelsea Gardner if she was in no mood for celebrating. She still had work to do.
The Allen Fieldhouse crowd of 1,984 gave Gardner a standing ovation when her second half layup-and-the-foul bucket against South Dakota made her the 27th Jayhawk with 1,000 career points. But Gardner's score had only tied the game, and after the announcement, she still had plays to make.
On the next offensive possession, following a South Dakota turnover, Gardner hit a hook shot and gave KU a lead it would never give up in a season-opening 68-60 victory on Sunday, which included a combined 50 fouls by both teams.
Gardner, a 6-foot-3 forward from DeSoto, Texas, wasn't immune to the referee's whistle, picking up her third foul just two minutes into the second half. But when she was on the court, she dominated, scoring a game-high 24 points and grabbing 11 rebounds, the 19th double-double of her career.
Gardner briefly returned with more than eight minutes left, but quickly picked up her fourth foul and went right back to the bench. KU coach Bonnie Henrickson joked afterward that Gardner might have reached 1,000 fouls before she scored her 1,000th point.
But when Gardner was back on the court with under three minutes left and the Jayhawks trailing South Dakota (1-1) by two, KU ran an isolation play for her. She pinned her defender towards the perimeter, freshman point guard Lauren Aldridge lobbed the ball over the defender's head, and Gardner converted the layup while being fouled.
"I thought when I got back in, 'I have to make shots,'" said Gardner, who also had four blocks. "So I was just focusing on finishing around the rim and getting to the free throw line."
The Jayhawks (1-0) struggled to create much offense when Gardner was on the bench. After senior Natalie Knight completed a 6-0 run with a layup with 15:33 left in the game, the Jayhawks didn't make another shot for the next eight minutes until freshman Terriell Bradley tied the game at 49-all by hitting a jumper.
"We didn't get good looks," Henrickson said. "We missed shots at the rim, we struggled at the three and we didn't create offense from our defense."
Strong defense by the Jayhawks kept the score close until Gardner returned to the court. Once Gardner's two baskets gave KU a two-point lead with two minutes left, Knight grabbed a steal and drained the ensuing two free throws. Aldridge, Knight and Gardner made 10 of 11 free throws down the stretch to secure the win.
Without Gardner for most of the second half, Knight stepped up and did her best to fill the void on offense and defense. Knight, who finished with 15 points and seven rebounds, struggled to shoot from deep (1-for-7 from three) but found ways to get to the rim for layups and force turnovers on defense.
"I always know when Chelsea gets into foul trouble, somebody's got to step up," said Knight, who also had a game-high five steals and added two assists without a turnover in 39 minutes. "It's not always me. …But I think I was just trying to be more aggressive and make a play."
But when KU needed a big play late in the game, it was Gardner who clogged the lane on defense and added crucial baskets, as she's done so many times in her journey to 1,000 points.
"It means a lot," Gardner said of her milestone, "but more importantly, it means a lot to win, too."
KU will welcome Texas Southern to Allen Fieldhouse for its next game at 7 p.m. Tuesday.