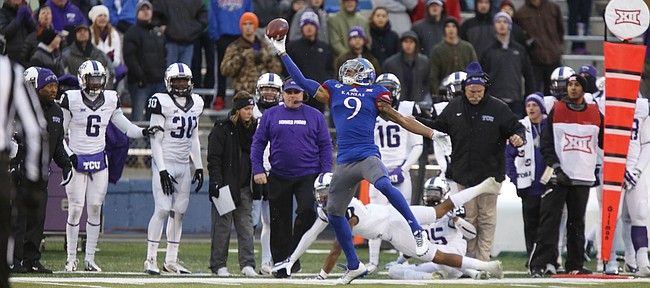 Photo Gallery
Kansas football v. TCU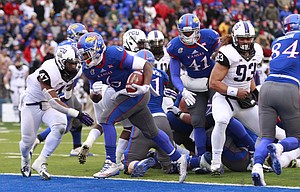 Images from Saturday's game between the Jayhawks and Horned Frogs at Memorial Stadium
TCU 34, KANSAS 30
As the final seconds of what was nearly one of the most epic upsets in Kansas University football history ticked away on Saturday at Memorial Stadium, the KU fans who actually showed up to watch it serenaded fifth-ranked TCU with chants of "over-rated," mocking the Horned Frogs' 34-30 escape over the Jayhawks.
One problem — the TCU players saw things the exact opposite way.
"Guys on the field after the game were saying, 'Don't let anybody tell you you're not any good because you guys played your asses off today,'" senior linebacker Ben Heeney said of the TCU players following the loss.
Senior cornerback JaCorey Shepherd, who, once again, put his stamp all over this one to the tune of an interception, a pass break-up and a pick-six that was called back because of an illegal substitution penalty, put it another way: "When the fans started saying overrated, (the TCU guys) were giving us our props and respect saying, 'No, y'all are underrated.' That's nice to hear. That's respect. And that's why you play the game."
For much of a cold and crazy Saturday — which drew an announced paid attendance of 33,889 but actually looked like less than half of that — the Jayhawks played to win. After giving up a touchdown on the opening possession to the high-powered TCU offense, the Jayhawks outscored the Horned Frogs (9-1 overall, 6-1 Big 12) 27-10 and built a 27-17 lead after a 78-yard touchdown pass from Michael Cummings to Nigel King in which King tipped the ball three times to himself before securing it and then raced the rest of the way untouched to pad KU's lead. On the ensuing kickoff, the Jayhawks forced a TCU fumble and recovered it in Horned Frogs' territory. But the KU offense could not turn that fortune into points and instead of going up by 13 or 17 points, left the door to a TCU comeback open just enough.
"The ball's on the 50, that's not a guarantee that you're gonna take it down on the TCU defense and get points," KU coach Clint Bowen said after the game.
Probably not. But it sure would have helped. Instead, the Horned Frogs answered with two touchdowns in the final four minutes of the quarter to take a 31-27 lead into the final quarter. A 24-yard run by Aaron Green (128 yards and 2 TDs on 19 carries) got it started and a 69-yard punt return from Cameron Echols-Luper pushed the Frogs over the top.
"That definitely hurt," Shepherd said. "That was hard to see. I feel like that play was the turning point in the game."
Such a statement carries a little more weight in a game like this, where so many crazy things went down. On KU's first drive alone the Jayhawks benefitted from a roughing the punter call, a fourth-down conversion pass from T.J. Millweard to Trent Smiley on a botched field goal attempt and a catch by senior receiver Nick Harwell near the goal line that was so far off line that it caromed off of the defender and fell softly into Harwell's hands.
"I meant to do that," joked junior quarterback Michael Cummings, who had his best game to date, throwing for 332 yards and two touchdowns, most of it coming while dealing with a banged up throwing shoulder.
Then there was the King touchdown catch — part of his five-catch, 128-yard day — and, finally a fluky fourth-quarter fumble that gave the Jayhawks a first-and-goal at the TCU 10 with nine minutes to play and a seven-point deficit. KU gained five yards from Corey Avery on first down but could go no farther and settled for a 23-yard Matthew Wyman field goal that set the final margin.
Asked if he thought about going for it on fourth-and-six, Bowen said it never entered his mind.
"No," he said. "Because I was confident we could get another stop, get the ball back and finish the game with a stop and a touchdown."
The first part of that came true, as the Jayhawks took over at their own 11 with 4:09 to play. But after a first-down strike from Cummings to Justin McCay, the drive stalled and KU never got the ball back.
By that point, enough good things had happened to the Jayhawks for them to walk away from Saturday's near-upset with their heads high in the air. But football's a funny game, and after a day in which they played arguably their best game of the season, all many Jayhawks could do was lament the lost opportunity.
"It felt like it was our day the way everything was going our way," Heeney said. "This one's a tough one. But it was a great effort by everybody and it was much appreciated by the seniors. Everyone laid it on the line for us and I think a lot of it had to do with Senior Day and the emotions."
A lot of it also had to do with something Bowen and the KU coaching staff have been emphasizing since he took over after the firing of Charlie Weis on Sept. 28.
"They're Big 12 football players, too," Bowen said of his guys. "And they belong in this conference. We never set any limitations on ourselves.... "(We knew) that TCU's the (No. 5) team in the nation for a reason because they're really good and we told our guys at halftime that the real part of the game starts in the second half and the real fight begins in the fourth quarter. But our kids went out and battled and they're expected to go out there and compete and play."
For the first time in a while around here, words like that actually sounded reasonable.
"With us playing how we did today, I definitely feel like we can play with anyone in the country," King said.
With their chances at bowl eligibility now gone, the Jayhawks (3-7, 1-6) have two more weeks to prove it, at Oklahoma on Saturday and Kansas State to close the season.