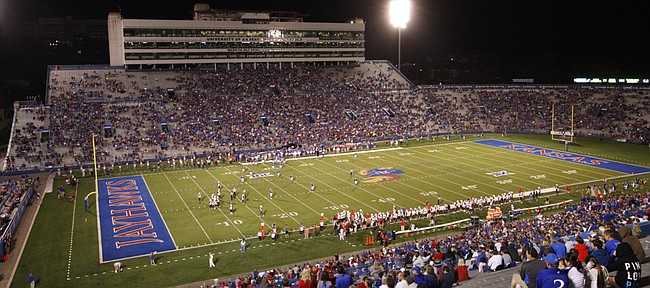 Saturday afternoon marks the final chance for 20 Kansas University football seniors to make one last memory at Memorial Stadium, the place they've called home for the past four or five seasons.
"I'm definitely thinking about it," senior Victor Simmons said. "But as far as how I'm gonna react, I'm trying to keep everything under wraps and think about it later because we're gonna need maximum focus because we still have to go out there and do our jobs."
While the minutes leading up to the 2 p.m. kickoff against No. 5 TCU figure to be filled with wild emotion and tears from the players and their families, Wednesday was more about laughs and positive reflection as several seniors gave their answers to the question: What is your favorite Memorial Stadium memory?
Here's a look at what they said:
— Nick Harwell, Sr. WR, Missouri City, Texas
"I've had so many memories since I've been here, but probably my favorite is the last game (a 34-14 victory over Iowa State last Saturday). To actually play in the game and get that Big 12 win was incredible. Last year I was here when we beat West Virginia, but I didn't actually play. So being in there this year and being a part of having the goal post come down and getting coach (Clint) Bowen his first win, that's just a great memory and it was so much fun to be a part of."
— Ben Heeney, Sr. LB, Hutchinson
"Probably beating West Virginia and getting my first Big 12 win (Nov. 16, 2013) was probably the most memorable. I think the big thing that I'm gonna take from all this is just the relationships that I'm gonna take from all my teammates and coaches and everyone I've met throughout this whole thing. It's pretty special."
— Tony Pierson, Sr. RB, East St. Louis, Illinois
"I probably would say my first career touchdown against McNeese State my freshman year (Sept. 3, 2011). It was a jet sweep around to the right and I still remember that like it was yesterday."
— Cassius Sendish, Sr. FS, Waldorf, Maryland

"I would just say practice, day in and day out. In-season practice is something you can't replicate. There's nothing like being out there with your boys, your grinding, everybody knows it's tough as you get to the second to last period of practice and you really gotta dig deep."
— JaCorey Shepherd, Sr. CB, Mesquite, Texas
"Going out there for my first college game period (McNeese State). Catching two touchdowns and playing in front of all those fans, that has to be my favorite memory right there. Nobody really knew who I was coming in and nobody was expecting that out of me. I wasn't expecting that out of me. But knowing that I played that well, that's when I knew, 'This is definitely for me. I can be here.'"
— Victor Simmons, Sr. Buck, Olathe
"My first play (Oct. 15, 2011). I didn't get red-shirted, so I figured I'd eventually play but it was a big deal going in against OU. I think they were ranked No. 1 at the time and it was always a dream of mine to play as a freshman and it happened. It got real real when on the first play I made a tackle, second play I force a fumble and recover it. That's a day I'll never forget."
— Trent Smiley, Sr. TE, Frisco, Texas
"Selfishly, maybe my catch against Louisiana Tech last year, but I don't know if I've ever had more fun out there than last Saturday. That was the best time."
Injury update
Defensive linemen Keon Stowers and Andrew Bolton and running back De'Andre Mann all ran through Wednesday's practice in preparation for Saturday's game. Interim head coach Clint Bowen said earlier this week that all three had a chance to return for this weekend's game against TCU, and they appear to be on pace.
New position?
Former Free State High standout Joe Dineen, a 6-foot-2, 208-pound freshman who moved from safety to running back before the start of the season, spent Wednesday working with the linebackers. It's too early to know if the move is permanent, but the emergence of fellow-freshman Darious Crawley as an option at running back likely allowed the Jayhawks to flip Dineen back to defense. Before he signed, there was talk about the possibility of Dineen playing either safety or linebacker in college.