Tuesday, November 11, 2014
Photo Gallery
Kansas baskeball v. Emporia State (exhibition)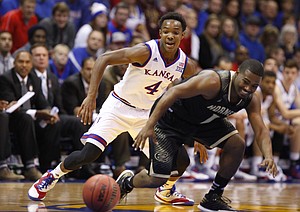 View a gallery of images from Tuesday night's exhibition between the Jayhawks and Hornets at Allen Fieldhouse.
Podcast episode
Jamari Traylor, Brannen Greene & Landen Lucas talk about KU's 109-56 win over Emporia State
Podcast episode
Bill Self says KU was better vs. Emporia State but still has work to do to be ready for Friday night's season opener.
One thing was obvious after eight Kansas University basketball players scored in double figures — and 11 played 12 or more minutes — in the Jayhawks' 109-56 rout of Emporia State on Tuesday night in Allen Fieldhouse.
The Jayhawks have a lot of guys capable of logging meaningful minutes and are scrapping for playing time heading into Friday's regular-season opener against UC Santa Barbara.
"Coach is still trying different rotations, but I mean it's early in the preseason. It's how it should be," KU sophomore guard Brannen Greene said after connecting for 10 points in 16 minutes.
"We haven't started playing games. He hasn't seen who can do what yet. When the popcorn's poppin' it's a little bit different. It's not the same as practice," Greene added, breaking up teammates Jamari Traylor and Landen Lucas in the interview room after the game.
Greene, who said "defense" is the key to emerging as one of the perimeter players who will see significant minutes, was joined in double figures by Lucas and Perry Ellis (13), Wayne Selden Jr. and Cliff Alexander (12), Frank Mason III and Hunter Mickelson (11) and Devonté Graham (10).
"I've got to do better, but it wasn't bad. I enjoyed myself out there, had fun and we got the win. That's the most important thing," Greene, who suffered a concussion in the exhibition opener vs. Washburn and missed a few days of practice, said after hitting two of four threes.
"We've got to see how it starts going in games. Once we get in games we can see who can do what, what rotations and who fits well and plays well together. I expect a battle. I love a battle. It's what I came here for.
"It's the season. It's here," Greene exclaimed.
One perimeter player who drew a starting assignment — freshman Sviatoslav Mykhailiuk — was one of the rare players who didn't threaten double figures. He was one of five from three and had three points in 18 minutes.
"It's good to see Perry play well the second half (13 points, six boards, three assists; nine points second half). It's good to see Wayne (5-7 shooting) see the ball go in the hole. The only one who labored was Svi," coach Bill Self said. "That start ... he said he wasn't nervous. I think obviously he was nervous. It's like a high school junior running out there. I thought everybody played pretty well."
As far as separation in terms of guys landing spots in the rotation ...
"I do feel there's been a little bit the last two or three days. It's not going to be guys playing the same minutes. Wayne, Perry and Jamari are gonna get theirs. Guys playing 18 may get 10, now. I think you'll still see us play nine or 10 guys. I don't know all 11, but nine or 10 at least early on. We do have balance. That's a positive for us," Self said.
As far as Greene's comment about some guys playing better when that "popcorn is poppin" — when the lights are on during actual games rather than workouts — Self stated: "I would say there is some time in practice he leaves a little to be desired from an intensity standpoint. He went after the ball hard today, one thing Svi didn't do. Brannen got his nose dirty, went after the ball. It's just an exhibition game. I will not get too excited. We did play hard, though."
Greene was happy to be healthy enough to make a funny postgame comment, considering eight days earlier he was knocked silly after running into a Washburn player.
"I've never had a concussion before. It was definitely unexpected and definitely hurt," said Greene, who still has a little bit of stiffness in the neck. "When I ran into him I felt dizzy, off balance. I didn't know how to handle it. I had trouble concentrating, couldn't really do my schoolwork, but two days later, I felt better. It wasn't too hard, then."
Game time for KU's regular-season opener against UC-Santa Barbara is 7 p.m., Friday, in Allen.
---