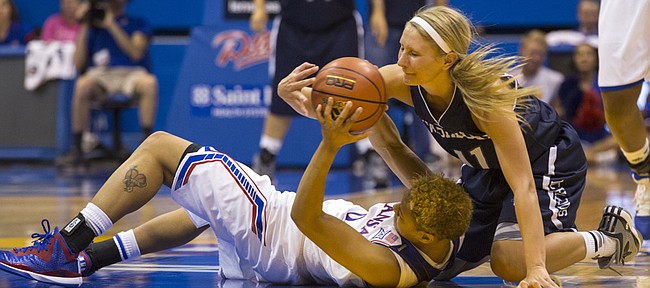 Photo Gallery
Kansas Womens Basketball vs Washburn (exhibition game)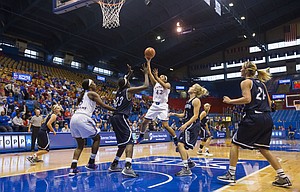 Images from the Kansas Womens exhibition basketball game against Washburn, played Sunday, Nov. 9, 2014 at Allen Fieldhouse. The Jayhawks came away with a 78-58 victory over the Ichabods.
With a week until the season opener, Kansas University's women's basketball team still has plenty to work on despite a 78-58 victory over Washburn University in its final exhibition game on Sunday at Allen Fieldhouse.
There were plenty of positives.
In the first half, the Jayhawks' offense made the extra pass that resulted in layups, while the defense was tight and forced the Ichabods to settle for deep jump shots.
But the second half was a different story. KU's defense didn't have the same intensity or ball pressure, and Washburn went from shooting 15 percent (5-for-34) in the first half to 54 percent (15-for-28) in the second 20 minutes.
"We didn't play with a pop defensively in the second half, and they took advantage of it," KU coach Bonnie Henrickson said. "They kind of punched us in the mouth, and we didn't have an answer. We have to have an answer when someone does that to us."
The Jayhawks, who have won their last 20 exhibition games, used a 14-1 run midway through the first half to separate from the Ichabods, never allowing them to get closer than 13 points in the second half. They were led by seniors Natalie Knight and Chelsea Gardner, who scored 21 and 20 points, respectively.
Henrickson has told Knight to be more aggressive and play more selfishly, and it showed, with Knight shooting 6-for-10 from the field, 8-for-10 from the free-throw line and dishing three assists.
Knight, a 5-foot-7 guard who averaged 10.6 points per game last season, utilized a strong shot fake and one-dribble pull-up to create space for her smooth jump shot or found a lane to dribble to the basket.
"It came naturally today, so I don't feel like I was forcing anything," Knight said. "The coaches are just putting that in my ear every day, 'Be more aggressive, be more aggressive.' So I'm just trying to do that."
Gardner missed a few shots in the paint early, but scored 14 points in the second half and just missed out on a double-double with nine rebounds.
"Once I realized I was missing a lot of shots, I started getting frustrated," said Gardner, who led KU with 17 points per game last year. "But I thought once I got open shots, (I) took my time and calmed down."
KU was also boosted by sophomore Keyla Morgan, the type of glue player that every team needs, who was everywhere on the court with six points, seven rebounds and a team-high four assists.
But with every step forward by the Jayhawks on Sunday, they seemed to take one back. There were 19 turnovers. They gave up 32 points in the paint. The offense stalled at times.
Was this game an improvement from the first exhibition game, a 73-52 victory over Fort Hays State?
"Not really. That's what was disappointing," Henrickson said.
The Jayhawks will open the season at home against South Dakota at 2 p.m. Sunday.