Iowa State (2-6 overall, 0-5 Big 12) at Kansas (2-6, 0-5)
2:30 p.m. Saturday, Memorial Stadium • Game-time forecast: 52 degrees, sunny, winds 12 mph from NW • TV: FOX Sports Net (cable chs. 36, 146, 236)
Log on to KUsports.com for our live game blog and follow our coverage team on Twitter: @KUSports @mctait @TomKeeganLJW and @bentonasmith
Three Keys for Kansas
Slow down Sam Richardson
During the non-conference portion of Iowa State's season, junior quarterback Sam B. Richardson completed 68 percent of his passes and had the ISU offense rolling. But those numbers have dipped in Big 12 play and Richardson has completed just 52 percent and tossed four of his six interceptions. If Richardson gets comfortable, KU could be in for a long afternoon, so it's important for the Jayhawks' defensive line to win the battles up front and for the secondary to give Richardson enough different looks to keep him from finding a rhythm. Richardson also is one of just eight players in the FBS to lead his team in rushing (339 yards on 96 carries) and passing (1,948 yards, 14 TDs), so it's not just the passing game where Richardson could be dangerous.
KU must show up
During last year's loss in freezing Ames, Iowa, the Jayhawks never got started in a 34-0 loss that was arguably the toughest to take in a long season. Two years ago in Lawrence, KU was run out of the stadium during the final three quarters, as Richardson and the Cyclones racked up 51 points and 548 yards on Senior Night. In both games, the Jayhawks hit the field flat and never recovered. Despite the record, this year's Iowa State team is too tough for KU to survive that.
Run the rock
The KU running game got off to another good start this season but has really slowed of late. Today's game against ISU presents a great opportunity for the Jayhawks to get rolling again. ISU opponents average 247 yards per game on the ground and a whopping 5.5 yards per rush. In addition, the Cyclones have surrendered 29 rushing touchdowns, including five last week to Oklahoma, which gained 510 yards on the ground.
Mega Matchup: Iowa State TE E.J. Bibbs vs. KU S Isaiah Johnson
Bibbs ranks second among all tight ends in the "power five" conferences with 34 receptions and is tied for first with six touchdown receptions. At 6-foot-3, 264 pounds, the athletic tight end is a matchup nightmare for opponents, who often struggle with the decision to put a bigger linebacker or a quicker defensive back on Bibbs. The Jayhawks figure to give safety Isaiah Johnson (6-1, 210) this tough assignment, and Johnson's physicality, athleticism and speed should give Bibbs and Richardson something to think about when the Chicago native's number is called in the passing game.
5 Questions with Senior OL Mike Smithburg
1 . You've become know for your monster beard, but is this the first time you've added long hair to the look?
"Yeah, I haven't cut my hair since the last time I cut my beard, like August of 2013. I set my mind to it, and there's nothing that could really happen that would make me cut it or shave it at this point. You just have to grow your hair out to understand."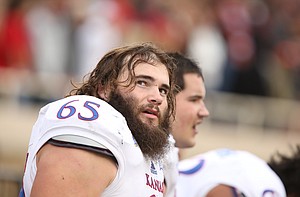 2 . With that in mind, what's the weirdest thing someone has said to you about your beard?
"Just random people, at least one or two every day, come up to me and say something about Grizzly Adams or Duck Dynasty or Jack Black, even. I get all kinds of stuff, just the random comments."
3 . You grew up in Fairfield, Iowa, and played junior college football at Iowa Western. Does playing the Cyclones mean a little more?
"Yeah, it's cool playing the Cyclones. I went to quite a few games there throughout high school, but the coolest thing is I know quite a few guys on that team, some guys that are playing, some guys that are just walk-ons, and it's great getting to see them and to compete against them."
4 . The O-line has been criticized a lot this year. Is it hard to hear that, and how do you handle the criticism?
"We're kind of used to it by now. And really the only thing we can do is just to keep working and try to grind out a win. It sucks, but I gotta count my blessings, too. I'm still playing Div. I football."
5 . How big would a win today be for the future of the program?
"Last year, when we were going into the West Virginia game (which KU won 31-19 in Lawrence), we were all kind of down, and when we won it just changed the outlook of everybody. It just changed the mentality and everything and really helped us get through the rest of the year with a little bit of confidence."
Jayhawk Pulse
The 2014 season has not gone the way anyone in the KU football program had hoped, but there's no doubt the Jayhawks will hit the field against ISU expecting a victory. Last week's loss at Baylor was the first time under interim head coach Clint Bowen that the Jayhawks looked truly overmatched, and Bowen and the players took the loss hard for 24 hours. After that, they responded with hard work and toughness. Like the Jayhawks, the Cyclones are winless in the Big 12 this season, and this game is big for the confidence of both teams as they head down the home stretch.
Tale of the Tape
KU run game vs. ISU run D – advantage Kansas
KU pass game vs. ISU pass D – advantage Kansas
ISU run game vs. KU run D – advantage Kansas
ISU pass game vs. KU pass D – advantage Iowa State
Special teams – advantage Iowa State