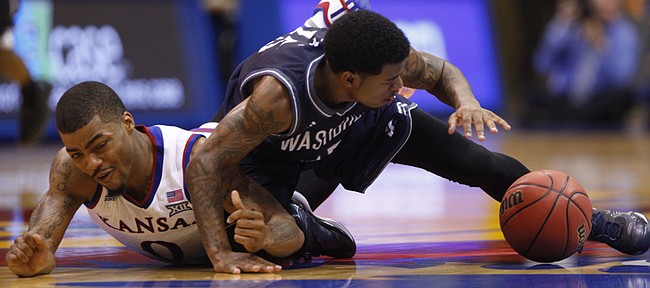 Somewhat hidden amid the hoopla surrounding the Kansas University basketball debuts of Cliff Alexander and three other freshmen was the performance of combo guard Frank Mason in Monday's exhibition rout of Washburn.
"Frank played well, 13 (points) on five shots, six boards, seven dimes and only one turnover. He defended fairly well, too," KU coach Bill Self said of the 5-foot-11, 185-pound sophomore's stat line on Tuesday's "Hawk Talk" radio show.
"I thought he had about as good a game as anybody on our team. Jamari the first half was really good, and Frank for the most part the entire game was pretty good," Self added.
Traylor, a 6-8 junior from Chicago, had three rebounds, two blocks, two points and an assist in nine minutes the first half. He had one rebound and one point in five minutes the second half.
"I think Frank inch-for-inch, pound-for-pound is the best athlete on our team. He's as fast as anybody. He can do seven, eight backflips in a row. I'm not talking with his hands. I'm talking about just flipping in the air. He could be a cheerleader for sure if the point-guard stuff doesn't work out for him," Self joked. "Hopefully he'll show his athletic ability out there some."
Frosh Devonté Graham had seven points, three assists, three turnovers and two steals while starting next to Mason in the backcourt.
"Devonté will play more point when Frank is in the game. When Devonté is not in the game, of course Frank will be point," Self said. "When neither is in the game, I imagine Wayne (Selden Jr., five points, four boards, 17 minutes) will be playing the point-guard position for us."
Ellis free to shoot: Junior forward Perry Ellis scored nine points off 2-of-6 shooting. He was 1-for-3 from three after going 8-for-17 all last season.
"That's fine. Hey, when you are open, shoot them," Self said of the 6-8 Ellis having the green light from beyond the arc. "He's a good shooter. When you are open, shoot them, but when you are close to the basket and have an opportunity to post within what we are trying to do, then make the most of those opportunities as well.
"I don't want him to fall in love being a perimeter player because that will hurt our team and will hurt him, too, because his numbers will obviously go down. If he plays up to his capabilities like we think he can, I think he can be the best player in the league."
Ellis had one rebound, two assists and a turnover in 20 minutes.
"I think he's getting more aggressive all the time, though last night we didn't see that. His (non-shooting) shoulder has been bothering him a little bit. Maybe he didn't have quite the juice last night. He's been really good in practice so far," Self said of Ellis.
Greene OK: Sophomore wing Brannen Greene, who hit a three-pointer in a nine-minute first-half stint, played just two minutes the second half after suffering a concussion upon running into Washburn screen-setter Stephone Drane.
"He looked good today," Self said, noting he took a concussion test "off the computer. I asked him if he passed it, he said he had no idea. He said it was hard. He didn't study for it," Self cracked. "I think he'll be fine, but he may be out a couple more days. He got his bell rung pretty good."
Self said he would have started Greene on Monday with fellow returnees Traylor, Ellis Mason and Selden, except, "I wanted him to play a little bit better defense yesterday (Sunday) and we really probably didn't get that done, so I started Devonté. Brannen has had a good last week, really good. Right now I would probably feel most comfortable with Devonté and Frank and Wayne and maybe even Brannen from a standpoint of knowing what we are trying to do. The newcomers got to pick some stuff up and kind of understand what we're trying to do. But they did fine."
Svi scores six: Freshman wing Sviatoslav Mykhailiuk scored six points off 2-of-5 three-point shooting with three rebounds in 16 minutes.
"He's done great. I told him today (Tuesday) I'm proud of him. He's trying hard, but he didn't come over here for everybody to say, 'Well, you could be a high school junior. Let's be patient with you.' He came over here because he wanted to impact college basketball now," Self said. "He wanted to play against the big boys and see how he'd do. There's still an aggressive feature that has to come out in him that isn't natural for kids his age (17). He has to get that (aggressiveness) to go against the hard-rocking dudes out there. I think he has the chance to be a special player. He makes the game a little harder sometimes than what it is. He likes 'no looks' and that crap instead of making the easy play sometimes. He sees it. He feels it. He can shoot it. He has touch on his passes. He can do a lot of things, but has to be more aggressive."