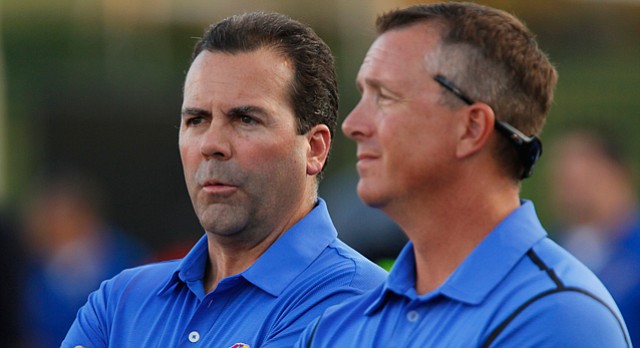 With four games remaining in the 2014 Kansas University football season and still a world of uncertainty surrounding who will lead the program in the future, KU athletic director Sheahon Zenger has taken some significant steps forward in the search to find a full-time football coach.
Zenger confirmed to the Journal-World Wednesday morning that former Big 12 interim commissioner Chuck Neinas had been hired by the university as an advisor in the search for a replacement for Charlie Weis, who was fired on Sept. 28.
Zenger credited Neinas' handling of the tumultuous conference realignment era and said his knowledge and understanding of both Kansas and the Big 12 landscape would be crucial in helping the Jayhawks find the right coach.
"Chuck is a guy I've known in this business since I was young," Zenger told the Journal-World. "We all respect and admire him as a current and former leader in our business, and what he did recently with the Big 12 was historic. Having him walk beside us in this is a great comfort."
This is not the first time that Neinas has assisted KU in a high-profile hire. Back in 2003, when the university was looking for a replacement for athletic director Al Bohl, Neinas helped the Jayhawks locate and land Lew Perkins, who served as KU's AD from 2003-10. As was the case then, Zenger said Neinas would play a key role.
"He'll be actively involved," Zenger said. "He'll be on the phone as much as I am. He will help us vet every candidate through references and also will be another voice on the advisory committee as well."
In addition to involving Neinas, Zenger confirmed that a search committee of roughly a dozen people had been formed to aid in the search. The committee includes colleagues, former KU football players and stakeholders, all of whom, Zenger said, have a vested interest in KU football and leading the program back to better days.
"Everyone will have a different role," Zenger said. "And the members of the committee are nation-wide. Based upon their location, they'll be able to do different things within that advisory role."
As Zenger has said from the beginning, interim head coach Clint Bowen remains a strong candidate for the job, but he hired Neinas and formed the committee to make sure the search was as thorough and well-rounded as possible, both of which would increase the odds of KU finding the right guy.
Because many teams and potential candidates are still in the heart of their football seasons, most of the work done on the search thus far has been of the preparatory variety, with Zenger and others doing research, lining up parameters and making preparations for the search to heat up once the college football season winds down.
"As I said five weeks ago, we will simultaneously be supporting our team and current staff and conducting a search," Zenger said. "And I think people can see we've been doing that."