Photo Gallery
Kansas Volleyball vs. Baylor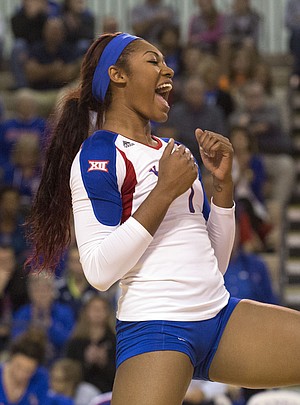 Images from Kansas' volleyball match against Baylor, played on Nov. 5, 2014 at the Horejsi Center. The Jayhawk swept the Bears, 3-0.
Kansas University outside hitter Tiana Dockery, who was inspired by a familiar voice on the bench, responded with a match-high 12 kills in the Jayhawks' 3-0 volleyball rout of Baylor on Wednesday in sold-out Horejsi Center.
"When you have Todd back here going, 'Hit the ball. Speak to the ball,' then you just have to go do it," the 5-foot-10 junior from Richmond, Texas, said after committing just three errors in KU's 25-10, 25-14, 25-23 sweep.
Todd is vocal fifth-year assistant coach Todd Chamberlain, who works with the outside hitters and encourages them during matches during the ultra-competitive Big 12 Conference slate.
"Every (opposing) team this year has been awesome," Dockery said after the Jayhawks, who are ranked 27th in the country in the RPI index, improved to 5-5 in the league and 17-7 overall. Baylor, No. 51 in the RPI, dropped to 3-7 in the league, 13-12 overall.
"Coming back after the big break (after two sets), if we are down two or split, you have to focus and not think about how tired you are. You know what they (opponents) are going to do is either be the same or they are going to crank it up a notch, so that means we have to keep going on our game. It's very difficult to win 3-0 in any of these games," Dockery added.
Fellow outside hitters Sara McClinton and Chelsea Albers had nine and eight kills respectively. Albers had 11 digs, second to Cassie Wait's 17. Ainise Havili had 38 assists for the Jayhawks, who will try to get over the .500 mark Saturday at Texas Tech.
"Yes we can. Yes we can," Dockery said, asked if fourth-place KU can creep above the break-even point for the first time this conference season. "We're going to work on that."
Noted senior Albers: "We are sitting at 5-5. I think we can right now make a big step. We need to keep building off of this. That's the most important thing."
Coach Ray Bechard, whose team at this date is still in good shape regarding landing a bid to the NCAA Tournament, acknowledged that the .500 mark has been tough to pass.
"Can we get over .500 in the Big 12? That's the big picture," Bechard said, when asked about the "big picture."
"It's a good time of year to play well and get a 3-0 win against a good team (BU had won two in a row).
"Depending on what happens tonight (in other league action), maybe we can get some separation between the top half and others."
Texas is 9-1, followed by Oklahoma (8-2), Kansas State (7-3), KU, TCU and Iowa State (4-6), Baylor (3-7) and Texas Tech and West Virginia (3-8).
"After the TCU match (3-2 road loss Saturday), coach 'B' was like, 'All right, we have to do something about this,''' Dockery said. "Practices have been good. Focus has changed a little bit, and that's how we played."
Bechard said Dockery certainly played well.
"We're happy with her performance as she continues to grow into the player we knew she could be," Bechard said.
Noted Albers, who played every point of the entire match: "She's been very aggressive. That's what we need on the outside, making shots and making plays. She's a calming sense on the court. That's something I look to and I know our underclassmen do too."