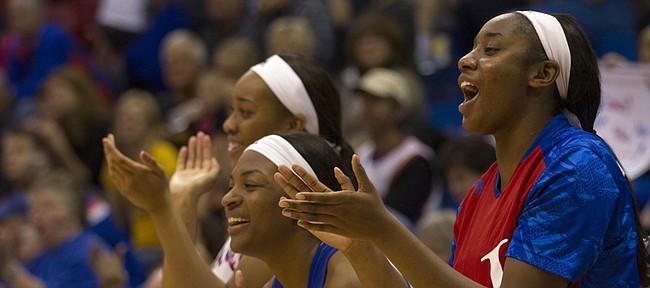 Photo Gallery
Kansas Womens Basketball vs. Fort Hays State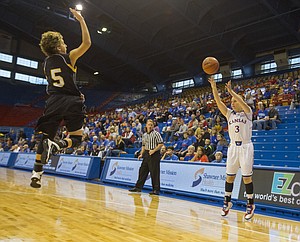 Images from Kansas' first exhibition game of the season against Fort Hays State, played Sunday, Nov. 2, 2014 at Allen Fieldhouse.
Coach Bonnie Henrickson only has two exhibitions to get her Kansas University women's basketball team into regular-season form. So the last thing she wanted to see out of the Jayhawks Sunday in their preseason debut was a passive approach.
It turned out, following a 73-52 victory over Fort Hays State at Allen Fieldhouse, the coach may want to go the other direction and get her players to pump the brakes from time to time.
"We were probably over-aggressive and made some decisions because we were trying to make some things happen," she said after Kansas turned the ball over 24 times while cruising past the Tigers.
Really, the Jayhawks had little to complain about aside from the giveaways. They out-rebounded FHSU 55-38, hit six of 13 three-pointers and never allowed their overmatched opponent to make a run at an upset, all while leading throughout.
Still, senior forward Chelsea Gardner warned after the easy win KU can not be so loose with the ball. The 6-foot-3 forward led KU with 23 points and 10 rebounds.
She said this warmup, and the one coming Sunday against Washburn, are what Kansas needs right now, with five newcomers in the mix.
"I think they're a great opportunity just to see how our team is," Gardner said, "and getting us together and getting ready to play big teams this year."
Reliable senior KU guard Natalie Knight complimented Gardner's interior play on the perimeter. The fourth-year starter hit two of three from beyond the arc, scored 11 points and distributed three assists. Senior Asia Boyd only took two field-goal attempts but made them both while chipping in six points and six boards.
Two new Jayhawks, junior point guard Timeka O'Neal and freshman guard Terriell Bradley, combined to score 16 of KU's 24 bench points.
Henrickson said both O'Neal (six points, 2-for-4 on three-pointers) and starting freshman guard Lauren Aldridge (seven points, 2-for-3 from the floor and 1-for-1 from deep) called more plays than she thought they would and showed improved understanding of what to run in certain situations.
Bradley, also an option at the point, displayed scoring punch, with 10 points on 4-for-8 shooting and a three-pointer in her fieldhouse debut.
"There were a little nerves," the 5-10 freshman from Arlington, Texas, said. "I just tried to be as optimistic as possible and go out there and give it my all."
Wouldn't you know it, Henrickson liked the freshman's assertiveness.
"She can space the defense and shoot the three, drive it," KU's coach said of Bradley. "If you're a capable three-point shooter, people find a way to drive and kick it at you."