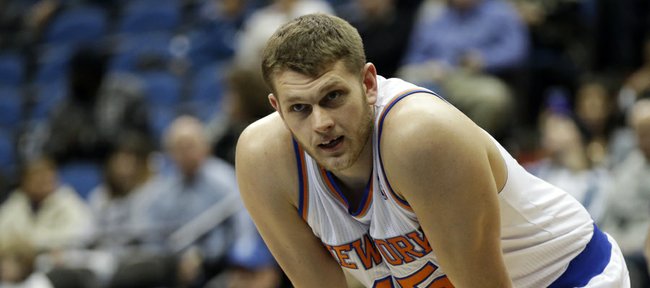 Cole Aldrich certainly made the most of his limited minutes last year as a member of the New York Knicks.
"For me, I can't control when coach is going to put my name in, but I can control what I do when coach puts my name in," said the 6-foot-11, 245-pound fourth-year pro out of Kansas University.
"That's just staying ready, staying in shape, staying in the mental frame of mind of just going in the game when called on. You never know if somebody is going to get hurt or get in foul trouble. You just go and play the game you love playing," added the 25-year-old Aldrich, who responded with a double-double (12 points, 10 rebounds, three blocks) in his first career start — March 12 against Boston.
Aldrich averaged 2.0 points and 2.8 rebounds while logging 7.2 minutes a game in 46 contests. In a three-game January stretch versus Boston, the L.A. Lakers and Charlotte, he had 18 rebounds and six points.
In the final three games of the season, a stretch in which the Knicks gave Aldrich a chance to show what he can do, he had 16 points, 13 rebounds and five blocks against Toronto; 13 points and 13 rebounds against Boston; and eight rebounds and six points against Chicago.
"I am an unrestricted free agent again this year. I would definitely like to be back in New York," said Aldrich, who made $916,099 last season. "New York was a lot of fun. The season was a little up and down, with us making a real late push for the playoffs (before falling short). I had a great year. I was able to get better and continue to show that I can play."
Aldrich, the No. 11 pick in the 2010 NBA Draft, has played for Oklahoma City, Houston, Sacramento and the Knicks. He has developed a reputation as a hard-working backup and a good teammate.
Case in point: The Knicks awarded him the game ball after his first career start.
"We know how much work guys like that put in, guys like Cole put in," All-Star guard Carmelo Anthony told probasketballtalk.nbcsports.com at the time. "We're with him every day. We know how hard he works. And for him to have this opportunity and be a big part of our team's success tonight, it's a good thing to see."
Noted coach Mike Woodson, who was fired after the season: "I'm just happy for him, because he's patiently waited all season and never once complained and just went about his business. And it paid off for him.
"He can rebound out of his space, in his space. He takes up space. He's got great hands," Woodson added.
Aldrich, an academic All-American of the year his final year at KU (junior year of 2009-10), will be spreading his knowledge around Lawrence this summer.
Aldrich has decided to move his fourth-annual summer camp for youths from Olathe to Robinson Gymnasium, located across the street from Allen Fieldhouse. The camp for boys and girls, kindergarten through high school sophomore will run 9 a.m. until noon, July 7-10 Cost is $175, with a $25 discount running now through Father's Day. For information, go to colealdrich.com or e-mail colealdrichbasketballcamp@gmail.com.
"We've been contemplating the last few years bringing it to Lawrence. It's a different crowd," said Aldrich, who is spending most of the summer in his native Bloomington, Minn., with wife Britt.
"Everybody in Lawrence is so basketball-crazy. Camp is always an exciting time, but now to have camp in Lawrence, it's really going to be fun, kind of that topping to the experience for us."
He will be assisted by former KU players Mark Randall, Jeff Gueldner, Tyrel Reed and others.
"We get the guys who do a good job teaching the fundamentals," Aldrich said. "We kind of harp on those things because sometimes kids get out and play in the summer, and they are not working on those fundamentals. It's a time to home in on it and get better at it."
While in town that week, Aldrich said he also would be playing some pick-up basketball with the current Jayhawks.
"The biggest thing I learned from coach (Bill) Self is just work hard in the offseason," Aldrich said. "Just use that time to get better at a few things, something you can use to propel yourself into the season."
Aldrich said he's impressed with how many bigs KU has put into the league of late — like Jeff Withey, Thomas Robinson and Markieff Morris.
"When we played the (New Orleans) Pelicans, I talked with Jeff before the game," Aldrich said. "Just watching the games of those guys, it's really fun. You see so many good big guys coming out of KU now. Even when Danny (Manning, former big-man coach) left, the guys just continue to improve and grow and are able to do some great things."
Rock Chalk Roundball Classic: Aldrich said he also will be playing in the Rock Chalk Roundball Classic charity basketball game, set for 7 p.m., June 12, at Lawrence High. For information on the game and ticket information go http://ljw.bz/S55wS7
White pondering Huskers: Former KU guard Andrew White III is seriously considering a transfer to Nebraska. He also has heard from Notre Dame, Richmond, Maryland, Florida State, Wake Forest, Miami and others.
Nebaska.rivals.com reports that NU holds a "pre-existing relationship with White and his family through assistant coach Kenya Hunter, who recruited White at Georgetown when he was coming out of the Miller School (Va.) back in 2012."
White told the website: "I definitely noticed that Nebraska has a pretty good history of transfers. But I was looking at the school more in terms of their playing situation for me as opposed to what they've done with transfers in the past, because every player is different. I like coach Hunter. Coach Miles (Tim, head coach) seems like a great guy, and he's really had that program going in the right direction. Just seeing their football program and things like that, I know that their fan support is on an extreme level. I just feel like it would be a pretty good situation all around."